25% Discount for San Bernardino Line
August 15, 2018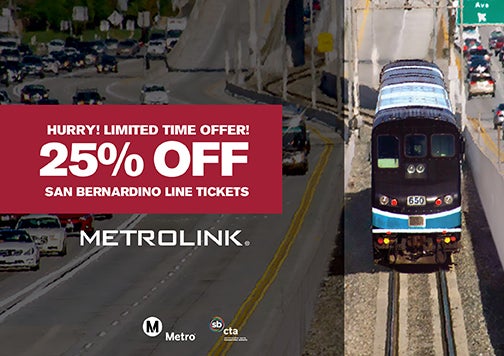 Did you know that Metrolink is offering San Bernardino Line customers a 25% discount?
San Bernardino Line customers will receive a 25% discount on One-Way, Round-Trip, 7-Day and Monthly Passes. Students, Seniors, and Active Military save even more with discounts up to 50%.
The six-month promotional discount is funded by the Los Angeles County Metropolitan Transportation Authority and the San Bernardino County Transportation Authority.
Purchasing the Discounted Tickets/Passes:
Monthly passes can be purchased through Metrolink Ticket Vending Machines (TVMs) and at the Metrolink Ticket Windows.
Mobile tickets/passes and 7-Day, Round-Trip, and One-Way tickets are available for purchase.
Future dated tickets can be purchased.
Discount Exceptions:
The discounted San Bernardino Line tickets/passes cannot be used for travel on the Riverside Line. However, Riverside Line tickets/passes can be used for travel on the San Bernardino Line between stations of equal or lesser distance.
The discount only applies to fares where the beginning and ending stations are located on the San Bernardino Line. Tickets and passes with transfers do not qualify for a discount.
This discount does not apply to the Metrolink $10 Weekend Day Pass or special tickets like Dodgers train passes.
(25% discount valid through December 31, 2018.)
For more information, visit metrolinktrains.com.