Call Boxes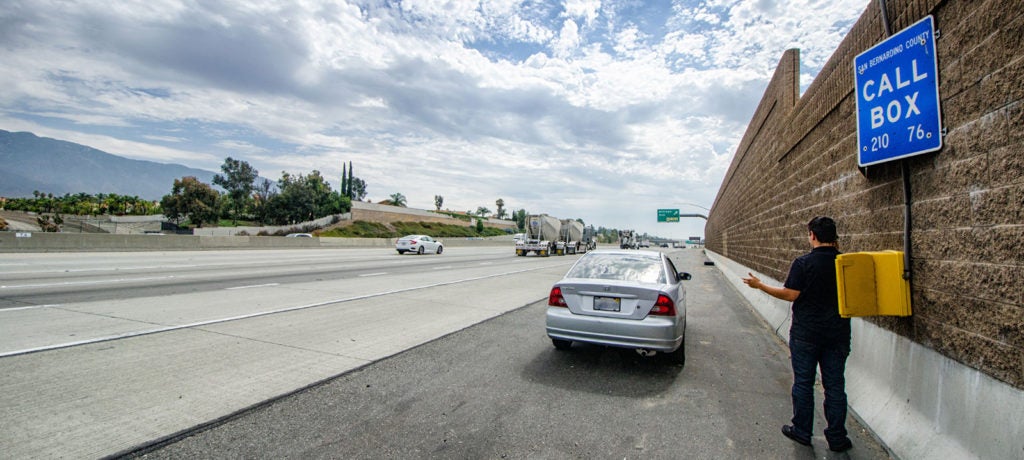 San Bernardino County Transportation Authority (SBCTA) is responsible for the development and implementation of Call Boxes along most State Interstates and US Highways.
While using County highways and freeways, motorists may use the Call Boxes to call for help when they:
Have a flat tire
Experience mechanical failure
Are in an accident
Experience other problems
What is a Call Box?
Each Call Box is a battery-powered, solar-charged roadside cellular telephone. Call Boxes are easy to spot (bright yellow box on an aluminum post with a royal blue identifying sign) and are conveniently located next to highways and freeways. All Call Boxes are Teletype (TTY) equipped and usually placed in pairs across from each other approximately one to two miles apart, depending on availability of a consistent cellular signal, other motorist aid services, and ADA access.
In 2015, satellite Call Boxes were installed on select highways in San Bernardino County to supplement areas where there is inconsistent or no cellular signal.
The system of Call Boxes is operated in close coordination with both the California Highway Patrol (CHP) and the California Department of Transportation (Caltrans). A professional call answering center answers the Call Box calls, transfers them when appropriate, and public safety assistance such as law enforcement, paramedic and fire control are dispatched by the CHP when needed.
When to Use a Call Box
A Call Box is a communication device that can assist in summoning aid when most needed:
To report an accident
To report injuries from accidents or other causes for paramedic response
To report a vehicular or roadside fire for response by the nearest fire department
To report hazards in the road or unsafe conditions
To request towing or other assistance when a vehicle stops working, has a flat tire or runs out of fuel
How to Use a Call Box
Call Boxes in San Bernardino County operate on a digital cellular or satellite signal. Because each Call Box is equipped with a large antenna and is powered by solar energy, the Call Boxes have a reliable power source and can pick up a cellular signal in areas where consumer cell phones cannot get a signal.
All Call Boxes in San Bernardino County are equipped with instructions inside the Call Box and are simple to use.
Open the Call Box, pick up the phone handset and press the green button for a voice connection or the red button for a Teletype (TTY) connection.
When an operator answers, he/she will ask you a series of questions.
If you have roadside assistance or other pertinent information (rental car information), have that paperwork with you at the Call Box when you make the call.
When you are finished, place the phone handset back into the cradle and close the Call Box door.
How is the Call Box Program funded?
Motorists living in San Bernardino County pay for Call Boxes throughout the County. The California Department of Motor Vehicles collects $1 annually from the vehicle registration fee for vehicles registered in San Bernardino County and forwards the proceeds to SBCTA for use in maintaining and operating the Call Box Program and other motorist aid programs.