Arrow Ribbon Cutting Ceremony
November 7, 2022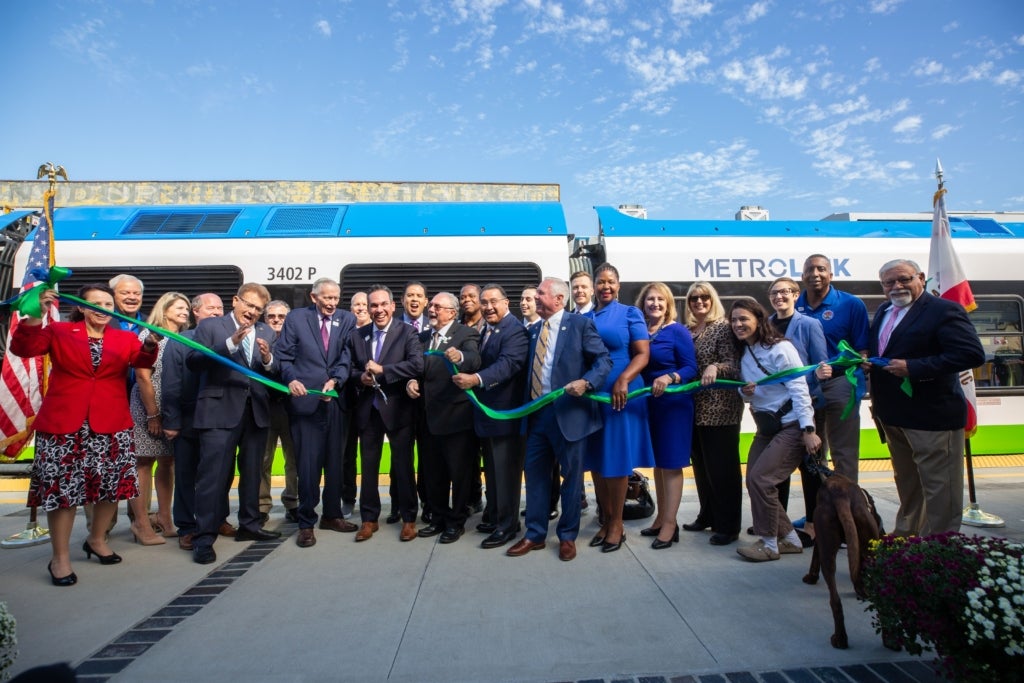 SBCTA in collaboration with Metrolink hosted a ribbon cutting ceremony on Friday, October 21st at the historic Santa Fe station, currently known as the Redlands – Downtown Station for the Redlands Passenger Rail Project, also known as Arrow. The project has been more than a decade in the making, featuring new tracks, enhanced street crossings, Quiet Zones, and five stations along the 9-mile route between downtown San Bernardino and downtown Redlands.
More than three hundred people came to welcome the new Arrow service to the area and tour the Tier 4 Diesel Multiple Unit (DMU). Third District San Bernardino County Supervisor Dawn Rowe emceed the event and guests also heard from U.S. Representative Pete Aguilar, SBCTA President Art Bishop, Metrolink Vice-Chair Larry McCallon, City of Redlands Mayor Paul Barich, City of San Bernardino Mayor John Valdivia, and CalSTA Chief Deputy Secretary for Rail and Transit, Chad Edison. U.S. Transportation Secretary Pete Buttigieg provided a pre-recorded video congratulating SBCTA and the cities of Redlands and San Bernardino on connecting the two cities to the rest of the region and vital resources such as jobs, education, groceries and healthcare.
Arrow will transform how passenger rail is operated in the Inland Empire and across the state bringing state-of-the-art clean-air rail technology to one of the world's busiest transportation corridors. Arrow will connect the East Valley of San Bernardino County to a multi-modal transit hub that can provide access to all points west. Four new stations will connect residents, businesses, and visitors to a variety of leisure, education, healthcare, and other destinations. The stations include San Bernardino – Downtown Station located at Rialto Avenue and E Street, San Bernardino – Tippecanoe Station located between Victoria Avenue and Hardt Street, Redlands – Esri Station across from the Esri campus, Redlands – Downtown Station just north of the historic Redlands Santa Fe Depot, and Redlands – University Station at the south end of campus.
Arrow service officially started on Monday, October 24th. Metrolink is the operator of Arrow. Arrow schedule and fare information can be found at metrolinktrains.com/arrow. For more information, riders can text or call Metrolink at (800) 371-5465 or submit an email through its Customer Service webpage.