Celebration Marks 70 Years of Sustainability on Interstate 10
August 17, 2017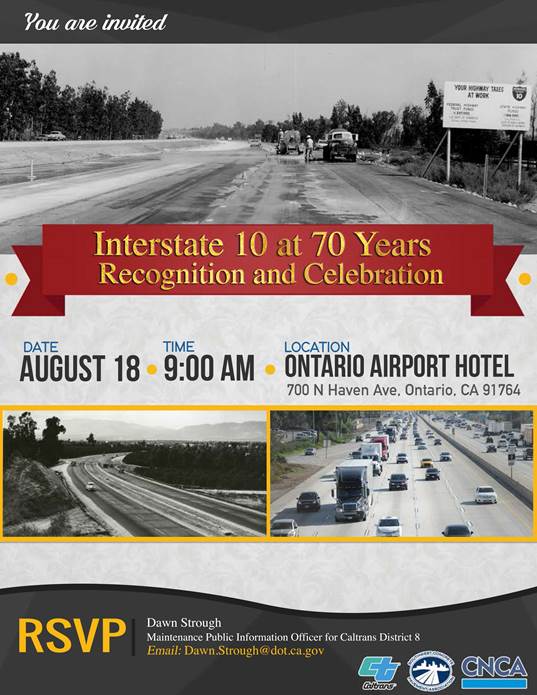 Who: 
California Department of Transportation (Caltrans)
CalPortland
California Nevada Cement Association
Southwest Concrete Pavement Association
American Concrete Pavement Association
Portland Cement Association
Federal and State Transportation Officials
What: 
Recognize 70-year old pavement on Interstate 10 and honor those who participated in the construction of the freeway. Presentation of a formal proclamation recognizing the freeway's sustainability and resiliency.
When: 
Friday, August 18, 2017 at 9:00 a.m.
Where:
Ontario Airport Hotel
700 North Haven Ave
Ontario, CA 91764
Why: 
Federal and state transportation officials, construction industry officials, representatives from local government, business, and the cement industry will be attending this event to celebrate the longevity of the I-10. Additionally, attendees will participate in the presentations of commemorative plaques and a formal proclamation.
Please RSVP to Dawn Strough at dawn.strough@dot.ca.gov before the event.