Compete in the 2nd Annual SBTC Sidewalk Chalk Art Contest
September 21, 2017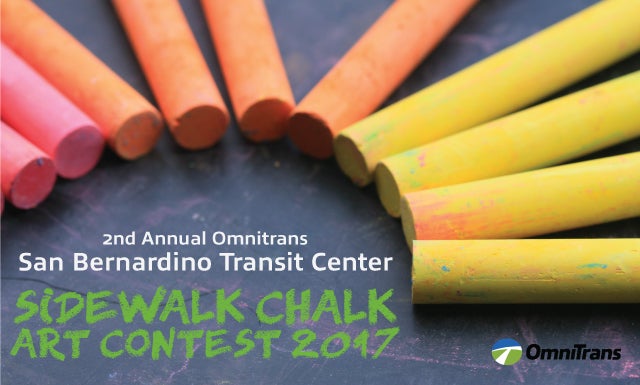 For two years now, not only has the San Bernardino Transit Center averaged 5,000 daily trips, it also has become a point of pride for Omnitrans and a true community space. This year, Omnitrans is celebrating the center's growth and momentum with the 2nd Annual SBTC Sidewalk Chalk Art Contest!
Join Omnitrans on Saturday, October 14th at the SBTC for a day of fun, art, and community! There will be live music, giveaways, refreshments, and a "Connecting our Community" sidewalk chalk art themed contest. Omnitrans invites you – no matter your artistic skill level – to participate and express your interpretation of "community" with an impressive chalk creation!
$300, $150, and $100 Visa gift cards will be awarded to the first, second, and third place winners in our Adult category (14 and older). All kids 13 and under are welcome to participate, and will receive a movie ticket as a prize just for entering!
REGISTER TO COMPETE TODAY! 
Please use Omnitrans online Registration Form to reserve your spot in the contest. There is only space for 30 entrants, so the sooner you sign up, the better. More details and contest rules can be found on the Official Rules page.
The event begins at 8:30 a.m. for registration. Omnitrans will provide chalk for those 13 and under. Adults (14+) should supply their own chalk. In addition, all event attendees and contestants will receive a FREE Omnitrans item to take home along with other giveaways and information.
Think you have what it takes to snag the top prize? We'll see you at the SBTC!
The San Bernardino Transit Center is located at 599 W Rialto Avenue, San Bernardino, CA 92410.
For more information, visit omnitrans.org/blog.