Donate to the Spark of Love Toy Drive 2017
November 15, 2017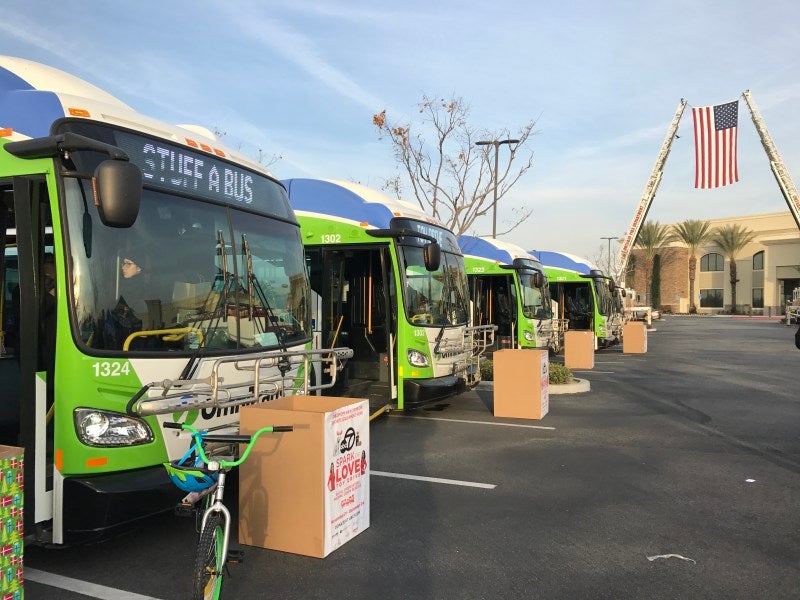 Spread some holiday cheer this season! Join Omnitrans, ABC7 and Southern California Firefighters and give to the Spark of Love Toy Drive.
Every child deserves to wake up with a smile on their face this holiday season, and you can help make that happen for under-served children in our local community on Friday, December 8, 2017 at the Stuff-A-Bus extravaganza! Omnitrans buses will be ready to get "stuffed" with new, unwrapped toy donations at Mathis Brothers Furniture, located at 4105 Inland Empire Blvd, Ontario, CA 91764, from 5 a.m. – 6 p.m.
Last year, our community came together and stuffed over 10 buses with toys for little ones throughout San Bernardino County. In addition to supporting a wonderful cause, you'll also enjoy music, treats, take a close-up look at the ABC7 news copter, and say hello to Santa at the event!
Unable to attend Stuff-A-Bus? We will be collecting toy drop-offs through Thursday, December 7th at our main office lobby in San Bernardino, and at the San Bernardino Transit Center.
You may also stop by any local fire station to drop off your toy, or donate monetarily online. All proceeds will go to buying toys or sports equipment for the children. Click here to donate online!
Omnitrans is located at 1700 W. Fifth Street San Bernardino, CA 92411. The San Bernardino Transit Center is located at 599 W. Rialto Avenue, San Bernardino, CA 92401. For hours of operation, click here.