Fontana Arts Festival Returns to Fontana Park
July 25, 2017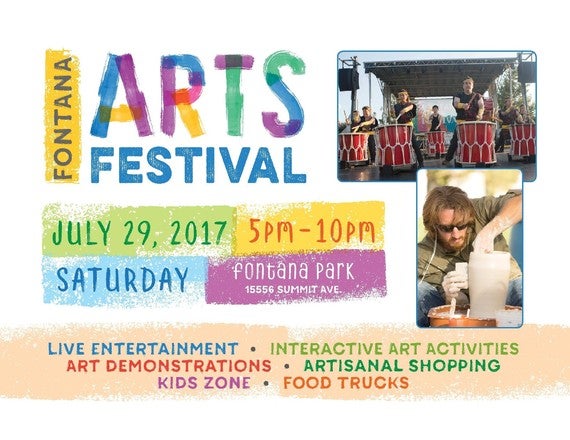 Fontana, Calif., The Fontana Arts Festival, known as the premier art festival in the Inland Empire is returning to Fontana Park located at 15556 Summit Avenue on Saturday, July 29, 2017 from 5:00 p.m. – 10 p.m. The festival attracts over 5,000 art enthusiasts annually and will feature numerous artists, crafters, festival food favorites, artisanal shopping, interactive art booths for all ages and live performances to include a popular band known for getting the crowds dancing at Disneyland.
The Fontana Arts Festival will feature various music, dance and interactive art performances. Musical performances will include a band concert by TOMASINA, best known for lighting up Disneyland's Tomorrowland Terrace performing classic pop and rock music. Additionally, local community performing artists will be showcased including a band performance by The Elephant in the Room and a dance showcase by Ballet Folklorico Tierra, Flor Y Canto. One of the highlights at this years' event will be local artist Jen Duran who will paint live on stage, dazzling the audience with her incredible water color masterpieces.
Enjoy perusing over 50 artist booths, watch artists create live art before your eyes, try one of the many interactive art activities and marvel at live art presentations. You can also treat your taste buds to the art of cuisine at one of the delicious food trucks that will be available. Families will delight at the Kids Zone which will include a balloon and caricature artist, living statues, exciting art activities and face painting.
For years, art has been a driving force in Fontana enriching the lives of community members through a variety of programs and activities offered through the city. The Fontana Arts Festival continues that tradition with a unique blend of arts, crafts, music, food and fun. Mark your calendars as you won't want to miss this incredible event. For more information about the Fontana Arts Festival, please contact the Art Depot Gallery at (909) 349-6975 or visit arts.fontana.org.

###