From DMU to ZEMU
July 12, 2019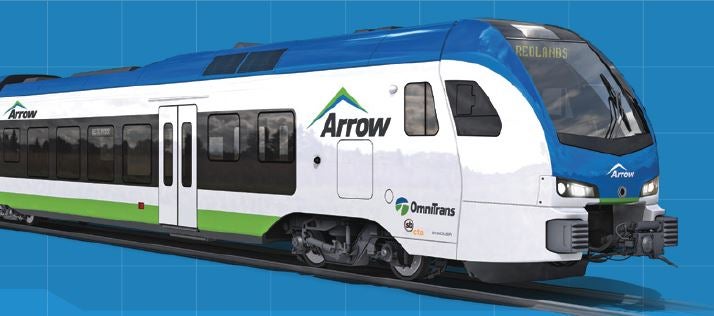 By now, it is well known that SBCTA is expanding the public transit network in the San Bernardino Valley with implementation of the Redlands Passenger Rail Project, a project that will introduce the Arrow service that will use diesel multiple unit (DMU) rail vehicles. In conjunction with public transit expansion and providing options for the traveling public, SBCTA seeks to reduce greenhouse gas emissions (GHG) and improve air quality. The DMUs purchased for the Arrow service are powered via a diesel engine "generator" providing power to electric motors at the wheels.
SBCTA, however, recognized an opportunity to convert the power generator to an alternative propulsion technology in an effort to produce a zero or low emission multiple unit (ZEMU) that could run on existing rail infrastructure, thus reducing air quality impacts while furthering the use of our existing rail system.
As part of this effort, SBCTA was successful in securing a $30 million Transit and Intercity Rail Capital Program (TIRCP) grant to conduct the Research and Development (R&D) efforts necessary to purchase a zero or low emission vehicle, convert the DMU to a ZEMU vehicle, construct the necessary infrastructure to support the alternative propulsion technology and test the vehicle on the Arrow service corridor. In addition, the State wants one of the first three DMUs converted in the future, with the goal to operate the entire Arrow corridor as a zero or low emission public service.
In August 2018, the California Transportation Commission allocated $17 million to begin the R&D on the ZEMU vehicle. The Redlands Passenger Rail Project team started the study in October 2018 and on May 2, 2019, staff provided an update to the SBCTA Board of Directors on the first phase of the project, which included progress of the R&D efforts of the alternative propulsion technology, as well as providing an overview of the guiding principles and next steps in the process.
After much review and evaluation of various technologies, battery and hybrid Hydrogen Fuel Cell are the two technology options that are recommended to move forward. The ZEMU Concept Feasibility Study examined these two technologies in detail to determine which is the most suitable for the Arrow service between San Bernardino and Redlands, as well as possible future expansion to Los Angeles Union Station. The proposed final draft of the Study is available on the SBCTA website here.