Future of Transit gets Major Boost with Presentation of $86.75M in Funding for West Valley Connector
March 20, 2023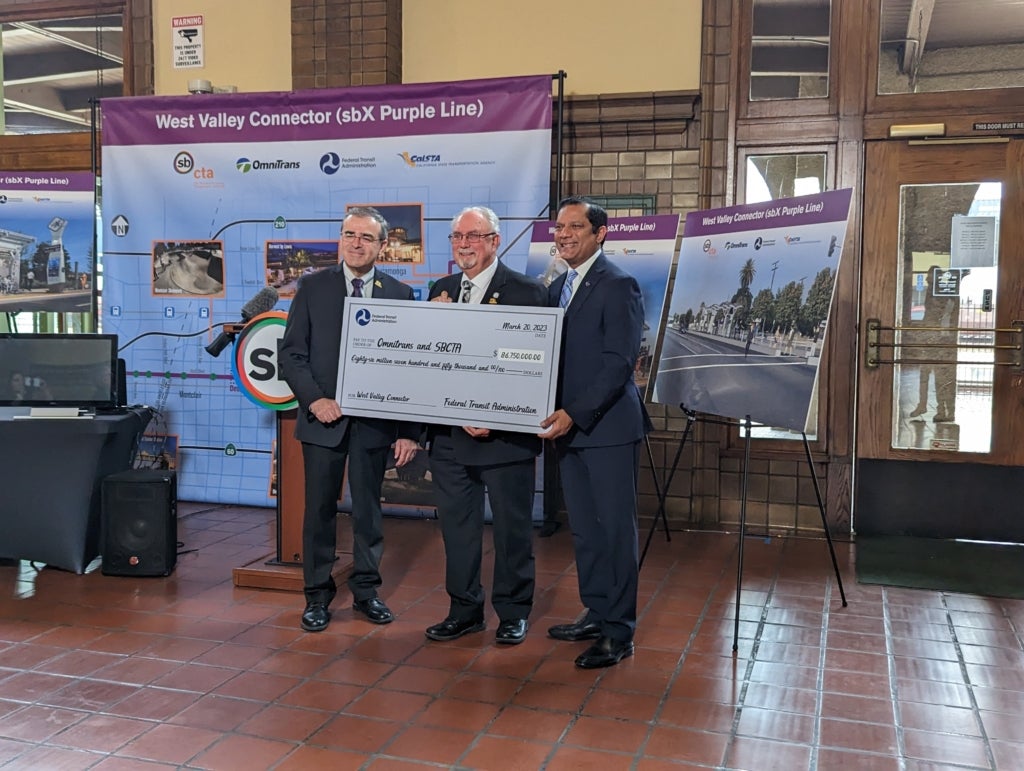 San Bernardino, California (March 20,2023) – The highly-anticipated West Valley Connector moved one step closer Monday with the formal presentation of $86.75 million in funding for the 100% zero-emission Bus Rapid Transit system that will link Ontario International Airport, two Metrolink lines and multiple activity centers from Pomona to Rancho Cucamonga.
Representatives from the Federal Transit Administration (FTA) joined the San Bernardino County Transportation Authority (SBCTA), Omnitrans and local and regional leaders during a presentation ceremony at the Santa Fe Depot. The $86.75 million in funding was awarded through FTA's Capital Investment Grants (CIG) Small Starts program and will cover roughly one-third of the Connector's estimated $262.67 million Phase One capital cost.
The 19-mile Bus Rapid Transit system is a critical piece in San Bernardino County's emergence as a modern, sustainable transit hub in one of the country's most dynamic population and economic centers. The Bus Rapid Transit system will feature 40-foot zero-emission buses and 21 new commuter stations, connecting key locations across Western San Bernardino County as part of Omnitrans' sbX BRT service.
Other projects underway or in various planning stages include the Redlands Passenger Rail/Arrow System, which eventually will feature the first hydrogen-powered, zero-emission passenger train in North America; a planned privately funded high-speed rail line from Las Vegas to the Rancho Cucamonga Metrolink station and a proposed tunnel connecting Metrolink to ONT.
"Thanks to the West Valley Connector, people who live and work in San Bernardino County will have a faster, more affordable travel option to get to jobs, schools, and visit friends and family," said FTA Administrator Nuria Fernandez.
The funding award clears the way for construction of the highly-anticipated system to begin later this year. Phase One of the project will include an upgrade of a portion of existing Route 61, which runs along Holt Boulevard, adding approximately 3.5 miles of a center-running dedicated bus-only lanes.
"We're so grateful to FTA, the Department of Transportation and U.S. Transportation Secretary Pete Buttigieg for their ongoing support of the West Valley Connector and the work we're doing to build one of the most modern, efficient and innovative transit corridors in the United States," said Art Bishop, President of the SBCTA Board of Directors.
"Without this infrastructure support from FTA and the Department of Transportation, it would not be possible to conceive and implement transformational partnerships and projects like West Valley Connector to build the future of San Bernardino County," said Omnitrans Board of Directors Chair John Dutrey.
Said Alan D. Wapner, President of the Ontario International Airport Authority Board of Commissioners, "The support we're getting for these projects validates the critically important role the Inland Empire and Ontario International Airport play in creating opportunities and a better future for ourselves, Southern California, the state and our nation."
For visuals and other media assets related to the West Valley Connector, please visit: https://bit.ly/wvcMediaAssets
For more details on the West Valley Connector project itself, please visit: goSBCTA.com/WestValleyConnector.