I-10 Corridor Project Draft Environmental Document Circulation Dates – April 25, 2016 to June 8, 2016
May 4, 2016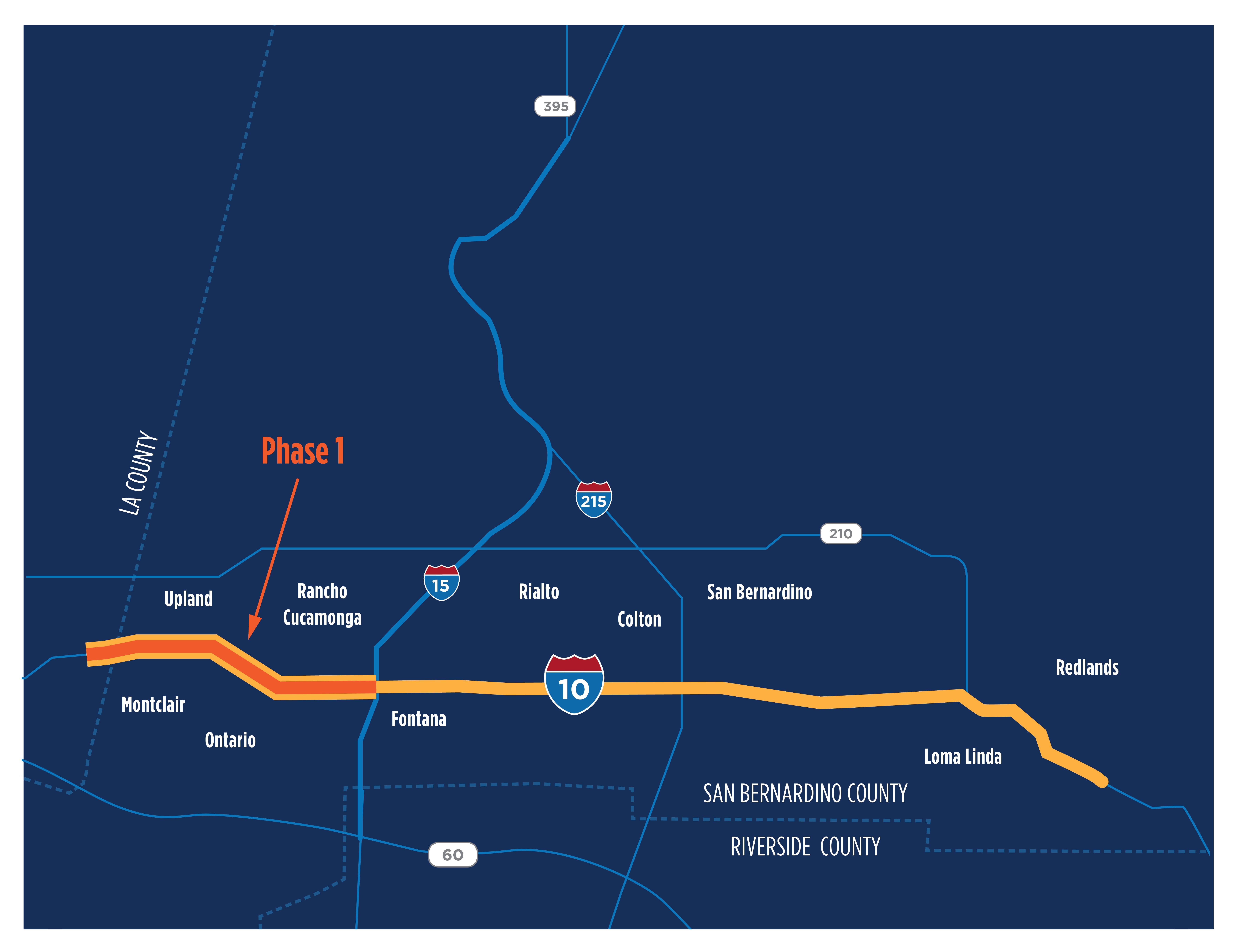 The San Bernardino Associated Governments has confirmed dates for the circulation of the I-10 Corridor Project Draft Environmental Document (DED). The circulation dates have been confirmed for April 25 through June 8, 2016. The notice of availability and the Draft Environmental Impact Report/Draft Environmental Impact Statement (DEIR/DEIS) are posted on the SANBAG website during the circulation period at http://www.sanbag.ca.gov/projects/mi_fwy_I-10-corridor.html.
In addition, hard copies of the DEIR/EIS will be available review at the following libraries:
A.K. Smiley Public Library: 125 West Vine Street, Redlands, CA 92373
Loma Linda Branch Library: 25581 Barton Road, Loma Linda, CA 92354
Norman F. Feldheym Central Library: 555 West 6th Street, San Bernardino, CA 92410
Colton Public Lebrary: 656 North 9th Street, Colton, CA 92324
Rialto Branch Library: 251 West 1st Street, Rialto, CA 92376
Fontana Lewis Library & Technology Center: 8437 Sierra Avenue, Fontana, CA 92335
Paul A. Biane Library: 12505 Cultural Center Drive, Rancho Cucamonga, CA 91739
Upland Public Library: 450 North Euclid Avenue, Upland, CA 91786
Ovitt Family Community Library: 215 East "C" Street, Ontario, CA 91764
Montclair Branch Library: 9955 Fremont Avenue, Montclair, CA 91763
We have also scheduled public hearings at three locations along the I-10 corridor:
Tuesday, May 17 from 4:30 – 7:30 pm
San Bernardino DoubleTree Hotel
285 East Hospitality Lane
San Bernardino, California 92408
Wednesday, May 18 from 4:30 – 7:30 pm
Bloomington Senior Center
18313 Valley Blvd.
Bloomington, California 92316
Thursday, May 19 from 4:30 – 7:30 pm
The Ontario Airport Hotel
700 North Haven Ave.
Ontario, California 91764
We encourage you to attend and participate in the process.
To make a comment on the DEIR/EIS and Section 4(f) de minimis finding, submit your written comments or request:
By Mail:
Aaron Burton, Branch Chief, Caltrans District 8
Attn: I-10 CP Draft EIR/EIS Comment Period
464 W. 4th Street
San Bernardino, CA 92401
By Email:
i10corridorproject@dot.ca.gov
By Phone:
(909) 884-8276, attention Tim Watkins, Chief of Legislative and Public Affairs
All comments must be received by June 8, 2016.
Click here to see the advertised Public Notice.