Infrastructure Bill a Game-Changer for Mobility Improvements
November 15, 2021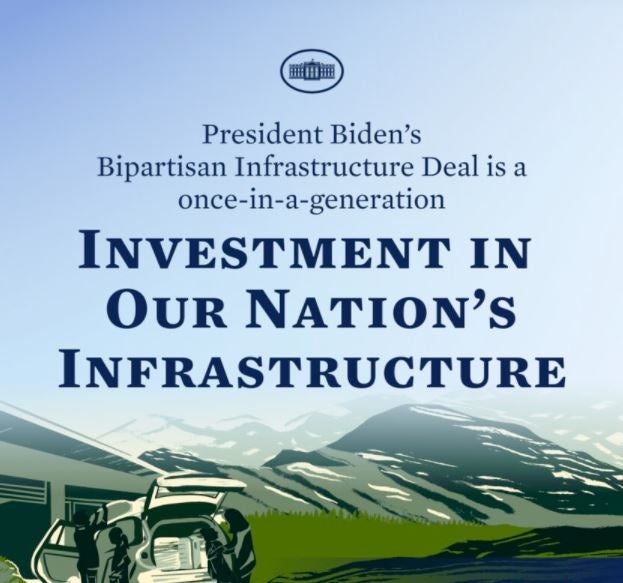 The $1.2 trillion federal infrastructure bill, signed today by President Biden, is great news for communities and counties such as ours as we address current needs while investing in innovative mobility options for the future.
The bill includes $550 billion in new spending, allowing San Bernardino County to compete for funds that weren't previously available. In all, the bill provides $110 billion for roads and bridges, $66 billion for freight and passenger rail, $39 billion for transit and $25 billion for airports.
Importantly, the bill expands opportunities for private activity bonds, which could be available for projects such as the Brightline rail from Las Vegas to Rancho Cucamonga.
SBCTA Board Member and Fontana Mayor Acquanetta Warren was invited by the White House to participate in the bill signing, representing small and mid-sized cities across the country. She noted that the landmark bipartisan program represents the largest investment in our nation's roads and bridges in generations and the most significant investment in mass transit ever.
Given the growth our county is experiencing, and the demands it is putting on our infrastructure, the need for this kind of investment is critical. And at SBCTA, we're proud stewards of your tax dollars, evident in the many publicly funded projects that have been completed or are underway throughout the region. These include projects funded through Measure I, the voter-approved half-cent sales tax dedicated to transportation infrastructure.
With the game-changing infrastructure bill now official, we look forward to continuing our role in driving innovative mobility solutions for all of San Bernardino County.