Inland Empire Changing the Narrative
September 6, 2019
At the September SBCTA Board meeting, Directors received a presentation from Steve Lambert of The 20/20 Network, an Inland Empire (IE) based communications firm. Mr. Lambert outlined a new initiative to support the IE based on non-profit organizations.
The IE has long lived in the shadows of its coastal neighbors to the west, struggling to establish its own identity and, more often than not, falling short when it comes to securing outside support and investment. The IE's nonprofit community has been particularly hard hit, lagging significantly behind the rest of California when it comes to philanthropic investment.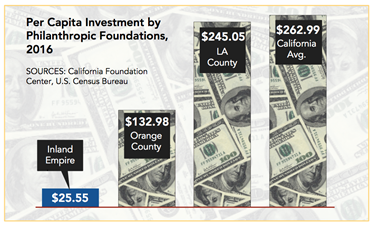 In October 2017, the Funders Alliance of San Bernardino & Riverside Counties partnered with The 20/20 Network to change perceptions of the IE, elevate the profile of the more than 11,000 nonprofit organizations that serve the two counties and provide those organizations with the narrative tools to increase the level of philanthropic giving, fundraising and grant-making to the region. Consulting with over 250 stakeholders within and outside the IE through one-on-one interviews, focus groups and surveys, Mr. Lambert and his team conducted an extensive media audit and studied best practices elsewhere in the country.
Among the challenges most often cited:
The IE is a large, divided region (two counties, multiple sub-regions).
The IE often is our own worst enemy when it comes to talking about ourselves.
The IE's nonprofit community is largely made up of smaller organizations (67% report annual revenues below $25,000).
In collaboration with many of those same stakeholders, The 20/20 Network led a process of narrative development and training for nonprofits on how best to tell their stories in the context of the region they serve. In addition, The 20/20 Network is meeting with other stakeholder groups, such as SBCTA, to encourage a consistent, strengths-based regional narrative.
To learn more about the Inland Empire Changing the Narrative, join the Facebook Group here.