Interstate 10 / Mt. Vernon Interchange Environmental Studies – Public Open House
July 12, 2021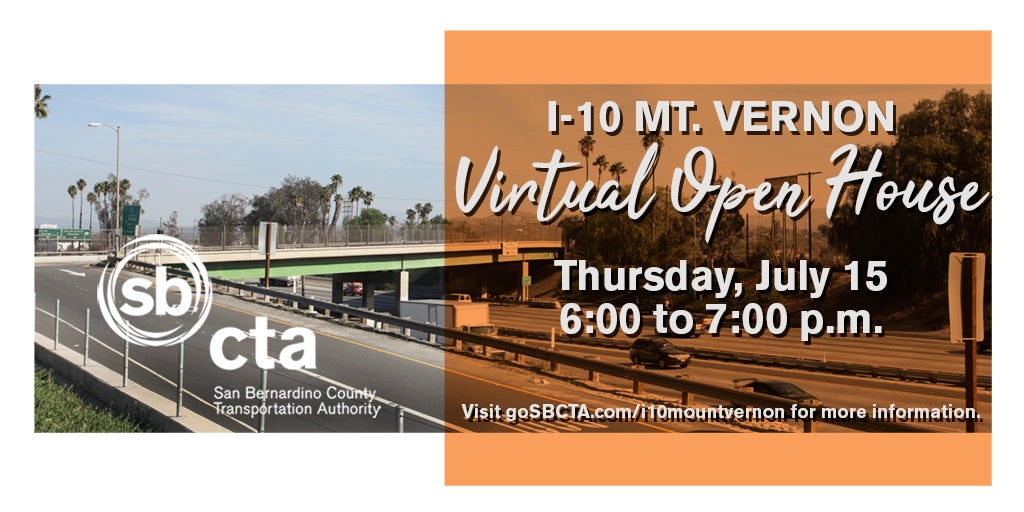 SBCTA, in cooperation with Caltrans and the City of Colton, is proposing improvements to Mt. Vernon Avenue Interchange at Interstate 10 to accommodate four continuous through lanes through the interchange, two additional left turn lanes in the northbound direction, and bike lanes in both northbound and southbound directions of Mt. Vernon Avenue in the City of Colton. The Mt. Vernon Avenue overhead structure will be reconstructed to accommodate the widening and to span any future widening of the I-10 freeway. Mt Vernon, south of the eastbound I-10 ramps, will also be widened to accommodate a left turn lane in the northbound direction. The project will upgrade bicycle access on the bridge, add a sidewalk on the northeastern side of the bridge, and address Americans with Disabilities Act standards with up-to-date curb ramps.
Caltrans has studied the effects this project may have on the environment. The studies show it will not significantly affect the quality of the environment. The report that explains the effects of the project is called an Initial Study (IS). The Draft Initial Study with Proposed Mitigated Negative Declaration is now available for review gosbcta.com/i10mountvernon.
A virtual open house will be hosted online, using the Zoom conferencing platform, on Thursday, July 15, 2021, from 6:00 p.m. to 7:00 p.m. For more information and details to attend the virtual open house and how to submit comments to the Draft Initial Study, visit goSBCTA.com/i10mountvernon.