CANCELLED: Long Term VVC Bus Stop Relocation Begins Monday, July 9
July 2, 2018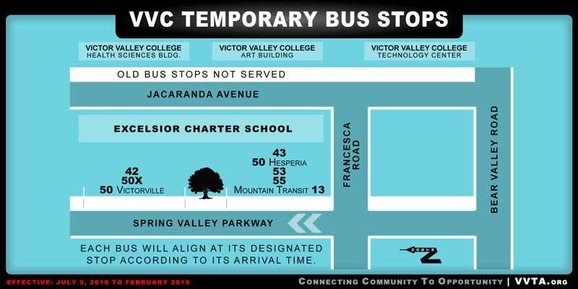 Victor Valley Transit Authority bus routes serving Victor Valley College (VVC) will detour due to construction, beginning Monday, July 9, 2018 until February 2019.
During this time, VVC Lower Campus stops on Mojave Fish Hatchery Road, and the VVC Upper Campus stops on Jacaranda Avenue will not be served. Alternatively, passengers should use the two temporary stops on northbound Spring Valley Parkway at Francesca Avenue, which will serve all routes.
The temporary stop nearest the corner of Francesca Avenue will serve route 43, 50 Hesperia, 53, 55, and Mountain Transit 13. The temporary stop furthest from the corner will serve 42, 50 Victorville, and 50X. Each bus will align at its designated stop according to its arrival time.
More info on VVTA.org.