Measure Impact: West Valley Connector
October 26, 2023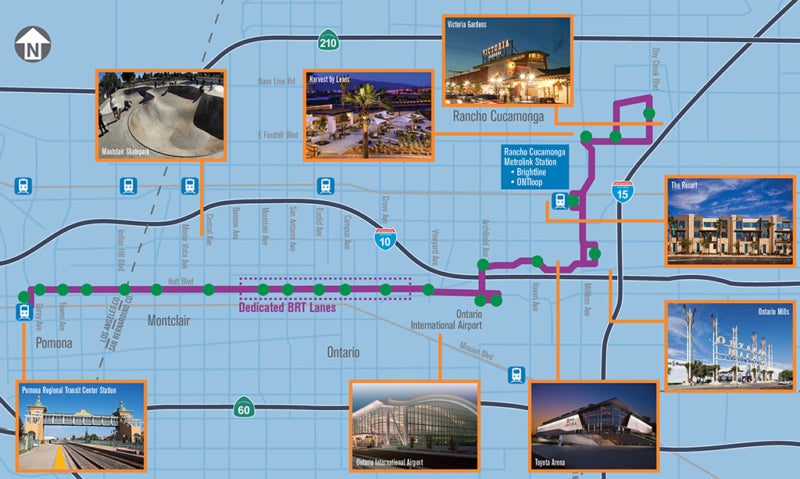 A groundbreaking ceremony was held earlier this month in Ontario for one of the most highly anticipated public transit projects in San Bernardino County history, the West Valley Connector – a 19-mile, 100% zero-emission Bus Rapid Transit system that would not be possible without the financial support of Measure I.
The half-cent sales tax for transportation improvement was overwhelmingly approved by voters in 1989 and again in 2004, and generates about $250 million per year to meet the county's growing transportation infrastructure needs. That includes the need to get people to and from work, to connect major employment, retail and entertainment centers and to do so without further polluting the air.
The West Valley Connector checks all of those boxes, and more, providing a convenient, efficient, and affordable connection between Pomona and Fontana. In between, it will link Ontario International Airport (ONT), two Metrolink lines (San Bernardino and Riverside), and multiple major activity centers including Ontario Mills and Victoria Gardens.
This month's groundbreaking was held near the Ontario Convention Center, one of 21 stations that will be built along the route. Once in service, in 2026, the headways will be 10 minutes in peak commute hours and 15 minutes in off-peak hours, providing a high level of service to the community.
The project has been enthusiastically supported by state and federal partners, who are contributing the bulk of the project's $266 million cost. But a significant amount too — $58 million – is being funded through Measure I.
"Without the support of our voters, this project and so many others that will benefit our county for generations to come would not have been possible," said Dawn Rowe, President of the SBCTA Board of Directors. "We live in one of the country's most dynamic population and economic centers. The West Valley Connector project will play a vital role in providing more efficient and affordable transportation to those that live in, work in, and visit San Bernardino County."
For more on projects supported by Measure I, please click here.