Metrolink Adds $10 Roundtrip Service for Weekend Dodgers Games
June 6, 2018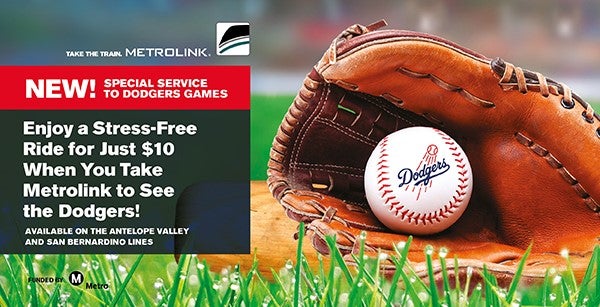 Attention baseball fans! Starting this Friday, June 8, Metrolink is adding service on its Antelope Valley and San Bernardino lines so fans can take the train to and from Friday and select Saturday Dodgers home games.
Round-trip tickets are only $10 and can be purchased at stations or on the Metrolink mobile app on the day of the game. Senior and student/youth tickets are $6 and $4, respectively.
Before each game, Metrolink trains connect with Dodger Stadium Express buses at Los Angeles Union Station. Fans with game tickets can ride buses to Dodger Stadium at no additional charge. After each game, fans will take the Dodger Stadium Express bus back to Union Station, where a Metrolink train would await offering a safe, reliable ride to their destination.
"Many San Gabriel Valley residents are passionate about Metrolink and the Los Angeles Dodgers," said Metrolink Board Member and LA County Supervisor Hilda Solis, who led the motion to add this special weekend service. "As Metrolink develops a special 'Dodgers Express,' no Dodgers fan should balk at this opportunity to save on gas, parking costs, and eliminate traffic headaches. Taking Metrolink to Dodgers games will be a home run!"
The special service, funded by the Los Angeles County Metropolitan Transportation Authority (Metro), will supplement existing Metrolink service for Friday night Dodgers home games on the Antelope Valley and San Bernardino lines, as well as on select Saturdays on the Antelope Valley Line.
The special train service on the Antelope Valley Line will service all stations on the line. Friday night special service on the San Bernardino Line will operate between Los Angeles Union Station and Claremont. There will be no service to the following stations on the San Bernardino Line: Montclair, Upland, Rancho Cucamonga, Fontana, Rialto, San Bernardino Depot and San Bernardino – Downtown.
"Taking Metrolink gets cars off the crowded Los Angeles roadways," said Metrolink CEO Art Leahy. "Baseball fans can enjoy their ride on the train while saving time and money by skipping the parking and will be able to enjoy the games without worrying about sitting in traffic. It's a win-win for the region."
Please check the schedule online to find the Metrolink trains that work best for your schedule at www.metrolinktrains.com/baseball.
Below are the dates and anticipated train schedule for the special Dodgers train service: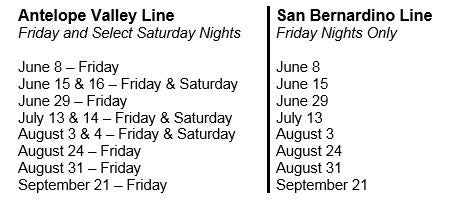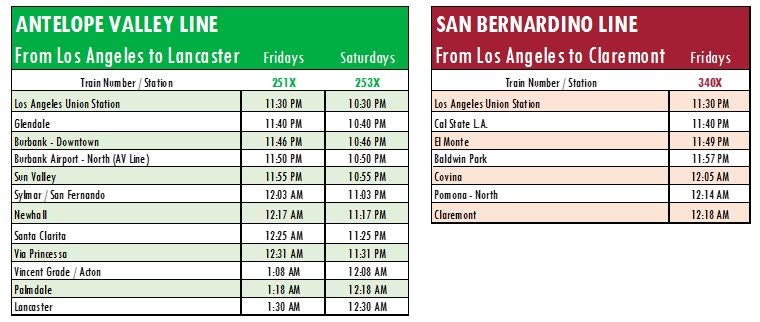 For additional details on Metrolink, please visit www.metrolinktrains.com.