Metrolink Adds Service to Riverside's World-Famous Festival of Lights at Historic Mission Inn
November 21, 2017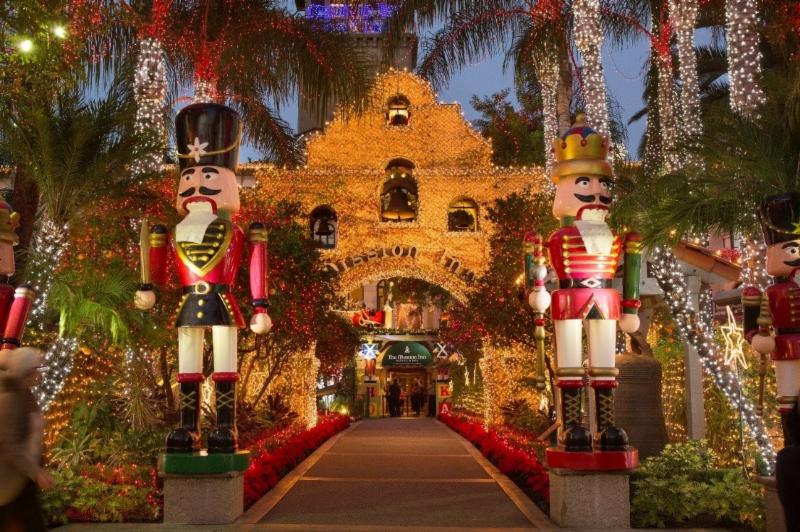 $7 for adults, ages 18 and under ride free
RIVERSIDE – Back by popular demand, Metrolink is adding more weekend service to the Festival of Lights at the Riverside Mission Inn Hotel and Spa. Metrolink train service to the event will run November 24, 25 and December 1, 2, 8, 9,15 throughout Riverside, Los Angeles and Orange counties.
"With the holiday season in full swing, families from across the Southern California region can enjoy this renowned and spectacular light display by simply taking Metrolink," said Metrolink Chair Andrew Kotyuk, who also serves as a Councilman for the City of San Jacinto. "Metrolink offers free rides to the event for ages 18 and under, making this experience affordable and convenient for countless families."
The special trains are timed to arrive in Riverside in the late afternoon on Fridays and Saturdays and depart Riverside after 8:00 p.m. Train times can be found at www.metrolinktrains.com/FOL. The Riverside Transit Agency will provide free shuttles operating between the Riverside-Downtown Station and the Festival of Lights.
The Festival of Lights includes more than 400 animated figures including angels, elves and Dickens carolers, appearances by Santa Claus, the castle-like hotel illuminated with 5 million holiday lights, the world's largest man-made mistletoe, horse-drawn carriage rides, freshly fallen snow, elaborately decorated Christmas trees in the lobby and throughout the hotel and delectable holiday confections.
This is the second year that Metrolink has run special trains to the Festival of Lights. Last years' service was popular, with many trains at capacity. This year, Metrolink has increased service by 133% to give more people the opportunity to enjoy this exciting holiday event without worrying about traffic or parking.
Metrolink's special train service to the Festival of Lights is funded by The South Coast Air Quality Management District (SCAQMD) Board and by the Mobile Source Air Pollution Reduction Review Committee (MSRC).
MEDIA CONTACT: Chris Gutierrez at gutierrezc@scrra.net or (213) 332-6979.