Metrolink Celebrates Bike to Work Week
May 7, 2018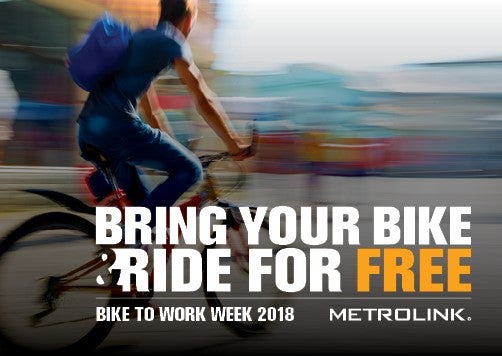 Free rides for cyclists, online giveaways available throughout May 
LOS ANGELES – In celebration of bike to work week, bicyclists can ride free on Metrolink trains Monday through Friday, May 14-18. The agency will also hold promotions where commuters and others can win a new bicycle during bike to work week and an electric scooter during May's National Bike Month celebration.
Free rides will be offered to any individual who brings his or her bike aboard a Metrolink train between May 14-18 (Bike to Work Week). The offer is good on all Metrolink lines operated throughout Southern California. Riders must accompany their bikes throughout the trip.
On Tuesday, May 1, URB-E and Metrolink partnered to give away an URB-E Sport electric scooter to one lucky commuter who enters a contest on Metrolink's Facebook page www.facebook.com/Metrolink. The contest was posted on Tuesday, May 1, at 5 a.m. and will end Sunday, May 6, at 11:59 p.m.
Tokyobike and Metrolink are hosting a virtual Twitter Party on Tuesday, May 15, from 5 p.m. to 6 p.m. to celebrate Bike to Work Week by giving away bicycle accessories and a brand new tokyobike. Tune in and participate by using the #BiketoWork2018 hashtag or by following @Metrolink and @tokyobike_nyc on Twitter.
Cycling to work and other venues is a convenient and healthful way of commuting when taking the train. Every Metrolink train includes a dedicated bike car with storage space for up to six bicycles. In addition to the bike car, all other passenger cars can accommodate cyclists.
For more information regarding Metrolink promotions and events in the region during National Bike Month, please click here.