Metrolink celebrates National Bike Month with events, contests
May 5, 2017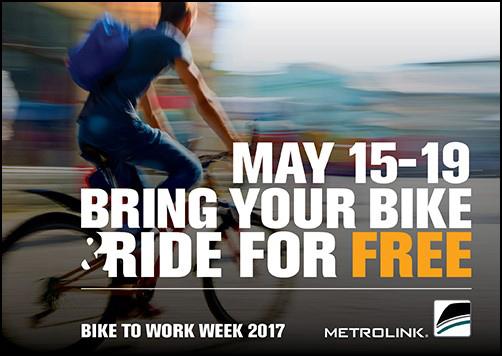 Metrolink celebrates National Bike Month with events and contests to promote cycling
Riders with bikes ride Metrolink free May 15-19
LOS ANGELES – In support of National Bike Month in May, Metrolink is encouraging passengers to ride their bicycles and leave their cars at home through a variety of events and contests. Every Metrolink train includes a special car with storage space for up to six bicycles. Additional bike storage can also accommodate more cyclists on other passenger cars.
Metrolink is partnering with Metro to offer 2,000 Metrolink riders a free month of bike share rides. Metro Bike Share is the newest transportation program launched by Metro with 61 stations and hundreds of bikes – accessible everywhere from Union Station to the Arts District and other popular hotspots across town. Visit bikeshare.metro.net and use coupon code METROLINKAM2017. This offer is valid until June 30, 2017.
On Wednesday, Metrolink held a Facebook contest for members of its Corporate Partner Program. Corporate Quick Card holders entered by commenting on the post announcing the contest. A winner was picked in a raffle and received a commuter bike from Cyclery U.S.A. in Rancho Cucamonga.
Metrolink will offer free rides to passengers who bring a bike onboard the train during Bike to Work Week (May 15-19). The free ride offer is limited to one rider per bike.
During Bike to Work Week, Metrolink will host a Twitter Party on Tuesday, May 16 from 5 – 6 p.m. Metrolink and local bike shops will provide prizes for trivia winners, with the grand prize being an URB-E electric scooter. To participate, people should use the hashtag #Pedal2Work17.
For more information regarding events in the region during National Bike Month, Metrolink's service and local bike trails, please click here.
For additional details on Metrolink, please visit www.metrolinktrains.com.
MEDIA CONTACT: Scott Johnson at johnsons@scrra.net or (213) 452-0205.