Metrolink Marks 25 Years of Easing SoCal Traffic, Bringing People Together
October 30, 2017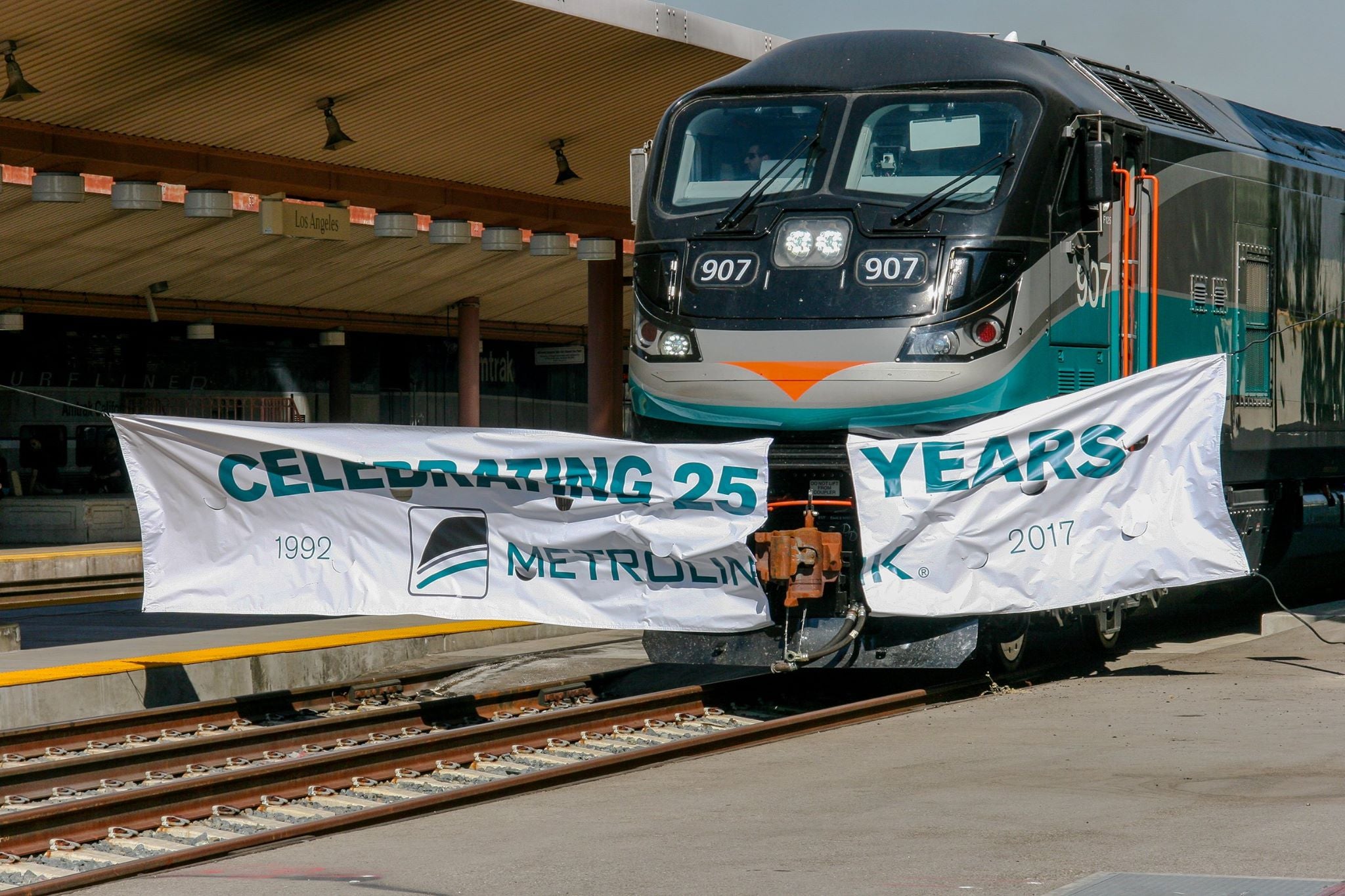 LOS ANGELES – The Metrolink regional rail system on Friday marked a quarter century of transforming Southern California in a unique ceremony where riders joined regional officials in focusing on the future of mobility in Southern California.
"With roadways congested and at capacity, the future of mobility lies in public transportation," said Metrolink Board Chair Andrew Kotyuk, a San Jacinto Councilman. Kotyuk noted that for many Southern California residents, Metrolink is the only stress-free alternative to slogging through traffic.
Metrolink, which covers a 538-mile swath through six counties, acts as a relief valve taking pressure off Southland freeways. Each weekday Metrolink riders travel more than 1.3 million miles, enough to journey to the moon at least five times. Metrolink service removes 8.7 million car trips annually. And that's good for traffic and air quality.
In the past 25 years an additional 2.7 million tons of additional carbon dioxide would have been emitted if it wasn't for Metrolink taking cars off the road.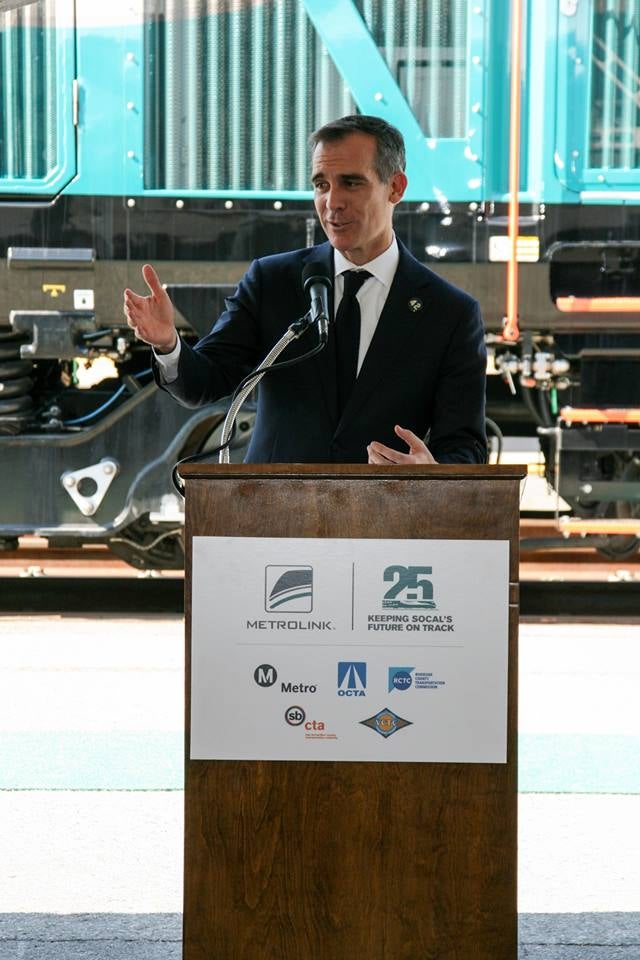 Photos by Metrolink
"For 25 years, Metrolink has eased our commutes, connected our communities, and helped bring Southern Californians closer together," said Los Angeles Mayor Eric Garcetti, Chair of the Metro Board. "Now, it's time for us to build on the progress of the last generation – with a new era of bold investment that will bring a wealth of new transportation options to our region."
At the ceremony dignitaries lauded Metrolink for its national leadership role in advancing safety and green technology.
It was the first commuter rail agency in the United States to install and operate Positive train control (PTC) during regular service on all hosted lines. This GPS-based safety technology, introduced in 2015, can stop a train and prevent train-to-train collisions and derailments caused by speeding and unauthorized train movement.
Metrolink also was the first major commuter rail agency in the nation to purchase new Tier 4 clean air operating locomotives that produce less emissions, generate more horsepower and are safer than older diesel models. Tier 4 locomotives will reduce PM and NOx emissions by up to 85 percent over standard diesel engines. When all 40 of these Tier 4 locomotives are in service it will be equivalent to reducing the annual emissions of 31,320 vehicles.
And Metrolink helps drive the economy. Its staff dispatches nearly 50 million pounds of freight each year on Metrolink owned track used by BNSF and Union Pacific.
Passenger fares and fees paid by the railroads cover 44 percent of Metrolink operating costs, the highest of any Southland public transit agency.
But Metrolink is more than statistics, more than just powerful locomotives and steel track. Metrolink Chair Kotyuk pointed out that for 25 years Metrolink has knitted together dozens of far-flung communities in the sprawling Southern California region from Lancaster and Ventura to Irvine, Los Angeles, Anaheim, Riverside, San Bernardino and Oceanside.
The diverse riders that take Metrolink to work, school or to explore Southern California, are a family who bond over long distances. The average Metrolink commuter travels 36 miles one way and crosses county lines.
They share a common frustration with driving in traffic and are thankful for the Metrolink alternative.
"When I look out the window to the right and see the 10 Freeway, I'm so glad not to be one of those stuck in traffic," said Hasan Ikhrata, executive director of the Southern California Association of Governments, a sentiment expressed by a fellow Metrolink rider, Steve Dooner, who recently started taking Metrolink from Moorpark to work in Burbank after tiring of stop-and-go traffic driving the I-5.
"I now come home relaxed," Dooner said with a smile.
For more information, visit metrolinktrains.com.