Metrolink Mobile App Users Can Now Transfer Seamlessly to Metro Rail Lines
January 4, 2018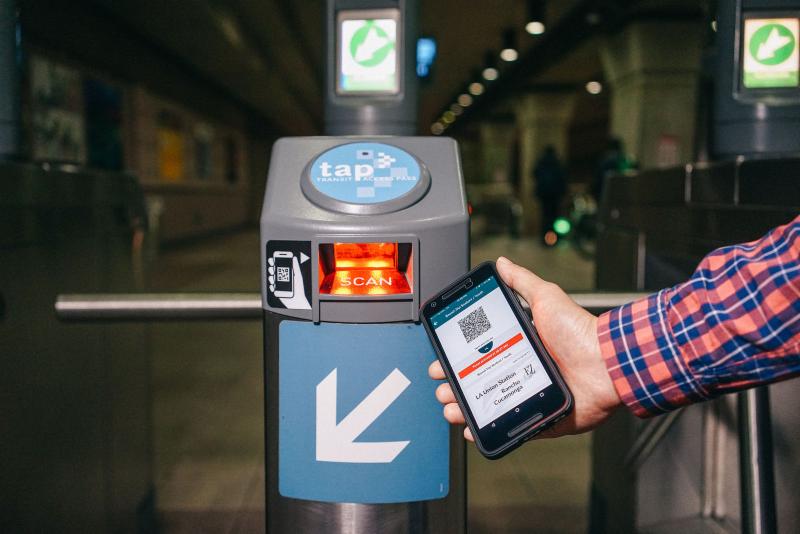 LOS ANGELES – For the first time, Metrolink riders who purchase a mobile ticket through the mobile app can transfer to Metro Rail lines by simply scanning their phone at locked Metro Rail gates. Officials from Metrolink and the Los Angeles County Metropolitan Transportation Authority (Metro) unveiled and demonstrated new optic readers installed at Metro Rail gates making transfers to the Metro system seamless and convenient.
"Today we are very excited to announce this partnership and new technology to help thousands of Metrolink riders who arrive at Union Station every day from six counties around Southern California," said Metrolink CEO Art Leahy.
Nearly a third of Metrolink riders transfer to Metro Rail on their way to jobs, school and other destinations. Many of them use a mobile app on their smart phones to ride Metrolink. Conductors scan their phones to check their tickets aboard trains, however, up until now Metrolink riders transferring to the Metro subway or light rail lines had to find a ticket vending machine to purchase a TAP enabled paper ticket.
No more. With new optic readers now installed at all gated Metro Rail stations, mobile app users can just scan their phones and get through.
"Working together we are leveraging technology to make it seamless and very easy as part of Metro's goal to transform transportation for our region," said Metro Deputy CEO Stephanie Wiggins. "Making it seamless for Metrolink passengers is key, Metro will be doing the same thing later this year."
The optic reader project cost $1.5 million covered by federal funding and is part of a technology transformation Metrolink has made over the past six months, which includes the launch of a new website and GPS train tracker.
To learn more about Metrolink including how to ride, go to metrolinktrains.com.