Metrolink to Increase Testing on Extension of San Bernardino and IE-OC Lines
June 27, 2017
In preparation for Metrolink passenger service on the one-mile extension of track from the Santa Fe Depot to the San Bernardino Transit Center, test trains will operate intermittently starting Wednesday, June 28, between the hours of 8 a.m. and 5 p.m.
During this time, you will routinely hear trains blow their horns and whistles when approaching all railroad crossings. Crews will be testing warning systems at grade crossings on 2nd Street, Rialto Avenue, G Street, and E Street. We would like to remind residents and businesses within the community to follow all rail safety rules. The only safe place to cross tracks is at designated public crossings. Trains do not travel at fixed times, so always expect a train on the tracks.
The Downtown San Bernardino Passenger Rail Project is anticipated to be complete later this summer. Testing is scheduled to continue after the completion of construction with service slated to begin later this year.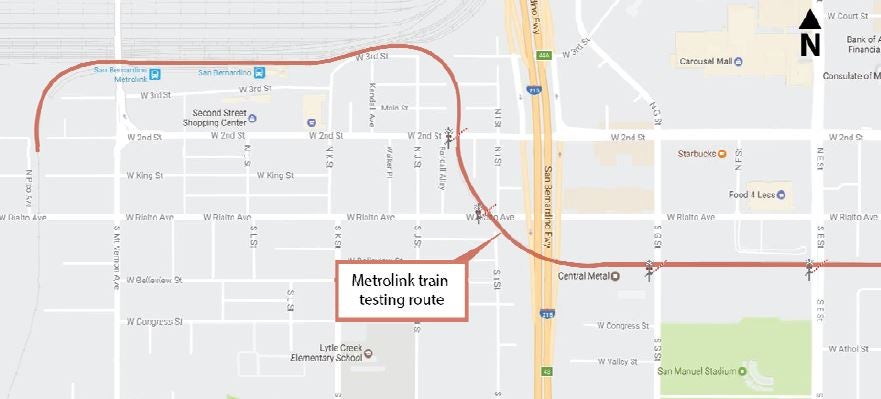 *Information contained in this construction alert is subject to change without notice, based on inclement weather, field conditions or other operational factors.