Mountain Transit Announces One Day Community Food Drive Tuesday December 4, 2018
November 26, 2018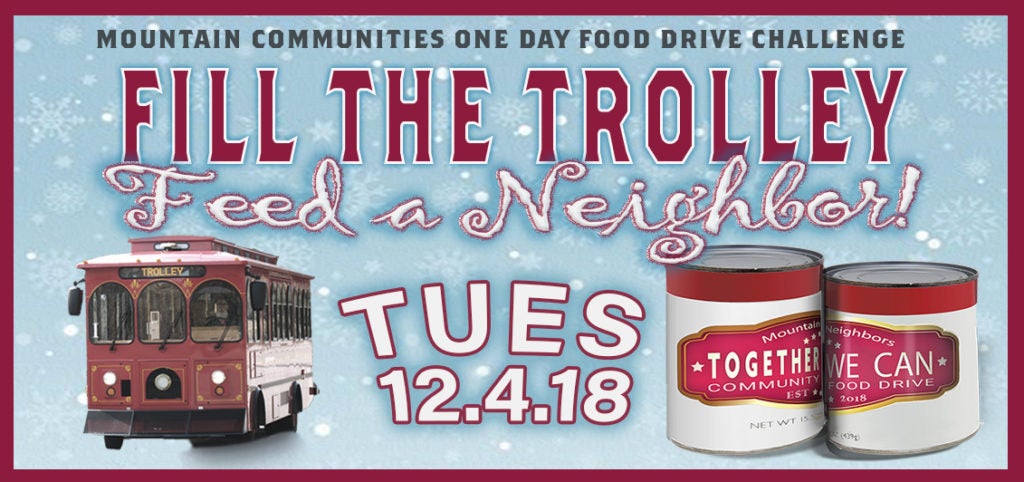 Drive away hunger on the mountain by participating in the Mountain Transit's One Day Food Drive Challenge!
Join us to help stop hunger in our Mountain Community during our One day "Fill The Trolley" Challenge! Your non-perishable food donation will help local families in need this winter and can earn you a round trip bus pass!
Mountain Transit will collect donations for one day on Tuesday, December 4. Stop by and help Fill the Trolley by making a donation and receive one round trip pass from Mountain Transit for use on any of our fixed routes. Or if you would prefer you can choose to donate the bus pass and we will distribute those to Mountain service agencies to assist with their outreach efforts throughout the year.
Tuesday, December 4
11a.m -7p.m.
RIM Trolley will be located at:
Goodwin & Sons Market
24089 Lake Gregory Dr,
Crestline-Lake Gregory
Big Bear Trolley will be located at:
The Copper Q
645 Pine Knot Ave,
Big Bear Lake
Suggested critically-needed items for donation to the Local Food Banks and Homeless Outreach:
· Canned Tuna or Chicken (in water)
· Canned soups (low sodium, low fat)
· Dry or canned beans (low sodium)
· Canned fruit (packed in its own juice, no added sugar)
· Cereal (low sugar, whole grain or bran)
· Canned Vegetables
· Dried Fruit
· Rice (brown or wild) and Pasta (whole grain)
· Dried Fruits
· Nuts and seeds (unsalted almonds, flax)
· Powdered milk (low or non-fat)
· Peanut butter (no sugar added)
· Infant Formula
· Socks
· Feminine Hygiene products
· Diapers for children or adults
(Sorry, the Food Bank cannot accept any glass containers or homemade foods.)
For more information, visit mountaintransit.org.