Omnitrans Connecting at ONT Every 15 Minutes
August 31, 2017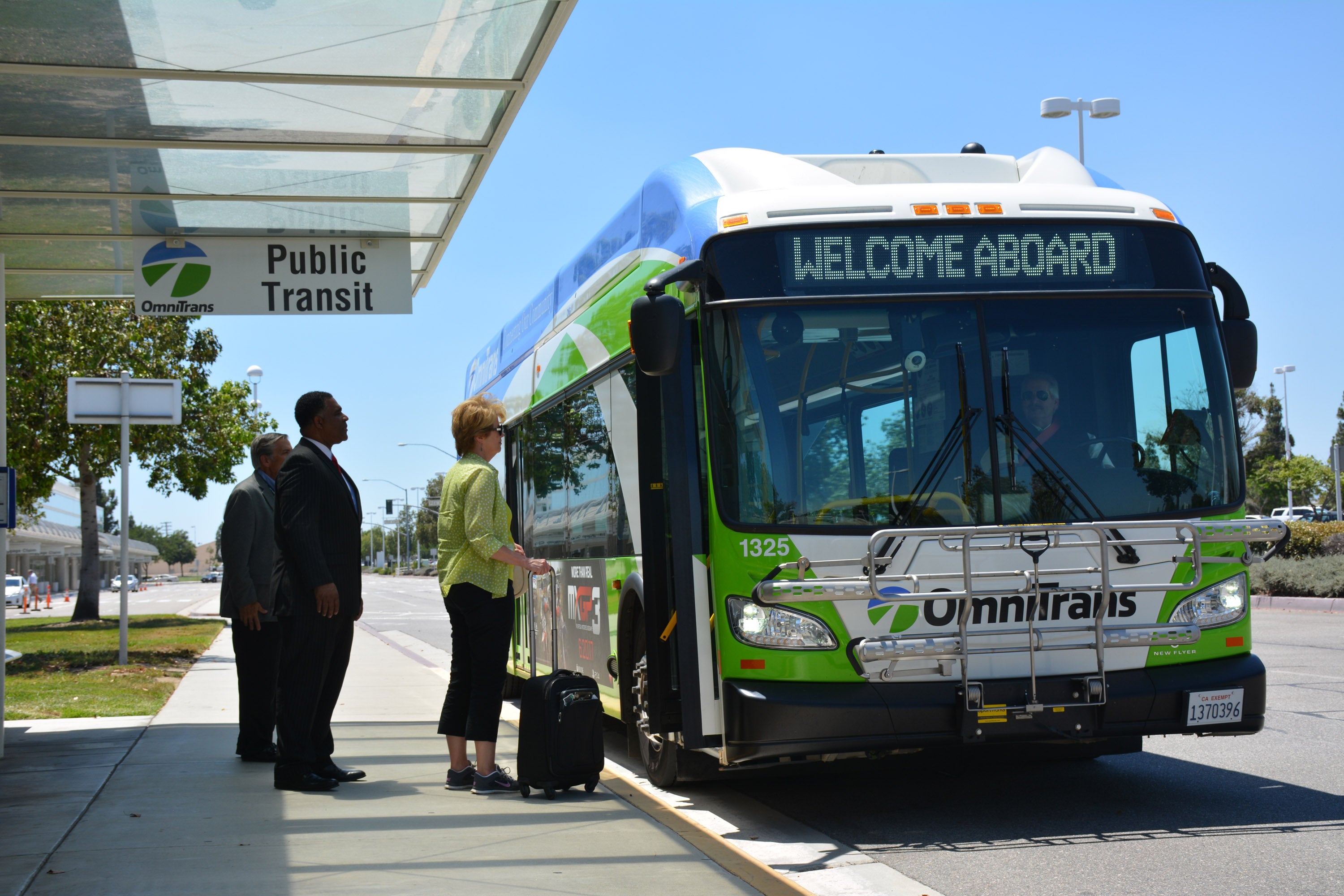 ONTARIO, Calif. – August 28, 2017 – Getting to Ontario International Airport (ONT) will soon be easier as Omnitrans expands public transit service to the Inland Empire's gateway airport.
Beginning September 5, Route 61 will include stops at ONT every 15 minutes between 4:45 a.m. and 10:45 p.m. on weekdays, officials of Omnitrans and the Ontario International Airport Authority (OIAA) announced today. The expanded bus service will operate seven days a week.
"Ontario International Airport is a public treasure and it should be more readily accessible by public transit, particularly as we add air service and the number of passengers we serve continues to rise," said Alan D. Wapner, OIAA president and Omnitrans board member. "We are grateful to Omnitrans for increasing dependable and affordable service for air travelers, greeters and employees alike."
More than 383,000 airline passengers traveled through ONT in July, an increase of 9.2 percent compared with the same month in 2016.
Omnitrans officials noted that higher-frequency service will provide a desirable transit mode beyond private transportation.
"We believe the 15-minute frequency makes public transit a viable option for ONT travelers," said P. Scott Graham, Omnitrans CEO/General Manager. "With bus fare just $1.75, it's a lot more affordable than parking, hailing a ride or renting a car, and needless to say it will help to reduce congestion in and around the airport."
Route 61 travels through Pomona, Montclair, Ontario, Rancho Cucamonga and Fontana, providing easy connections to many other Omnitrans routes, neighboring transit bus operators and Metrolink rail service in both Pomona and Fontana.
At ONT, Route 61 buses will stop just east of baggage claim areas at both passenger terminals. Omnitrans Route 80 also reaches ONT with hourly service seven days a week, traveling through Ontario and Rancho Cucamonga.
Omnitrans recently introduced a pay-by-phone option and also provides real time arrival information and online trip planning via smartphone through the free Omnitrans mobile app and the agency's mobile-friendly website, www.omnitrans.org. Personalized routing assistance available at 800-9-OMNIBUS (800-966-6428) or through Omnitrans website.
###
Links: