Omnitrans Guide to September 2017 Service Changes
August 23, 2017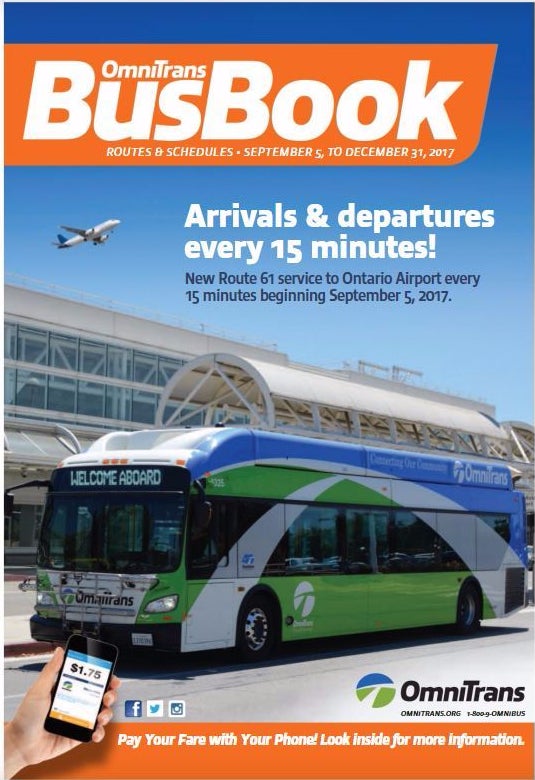 The latest Bus Book becomes effective Tuesday, September 5, and Omnitrans has a preview of the new service changes designed to enhance your Omnitrans experience!
The highlights include service every 15 minutes into Ontario Airport AND newly extended morning and evening sbX hours, along with minor enhancements to other local routes that will enhance connections and on-time performance.
Traveling to Ontario International Airport will now be easier than ever with Route 61 providing 15-minute service to the airport on weekdays and weekends. The two bus stops are located along Terminal Way at Terminals 2 and 4, just east of the baggage claim areas. Other popular destinations along Route 61 include Citizens Business Bank Arena, Ontario Mills, and the Ontario Convention Center. Route 61 also serves the Fontana and Pomona transit centers, making for great connectivity to the airport via Metrolink and Omnitrans.
sbX's Green Line, the bus rapid transit line connecting San Bernardino and Loma Linda, is also extending service hours on weekdays. The first sbX trip will now begin at 5:00 a.m., with service running until 10 p.m. Monday through Friday. This is good news for commuters and students traveling to destinations along the route. Now, you can take sbX to the early shift at work or catch a late night movie with friends! And, in case you didn't know, there are four Park & Ride locations along the sbX route. They offer free, lighted parking so you can experience a multi-modal commute to get to work, school, or just for entertainment!
Minor service changes have been made to other Omnitrans routes as listed below. Click here for a preview of the new Bus Book, and don't forget to plan ahead!
Affected Routes: sbX Green Line, 1, 2, 8, 15, 61, 66, 83, 88, and 215.
sbX: More morning and late evening service has been added.
Route 1: Run-time adjustments on all days.
Route 2: Run-time adjustments, weekdays only.
Route 8: A new weekday tripper to the Amazon Fulfillment Center has been added.
Route 61: Service has been added to Ontario International Airport. Schedule adjustments, all days.
Route 66: Runtime adjustments, weekdays only.
Route 83: A timepoint at Euclid and Holt has been added. Schedule adjustments, changes all days.
Route 88: Runtime adjustments, all days.
Route 215: Runtime adjustments, all days.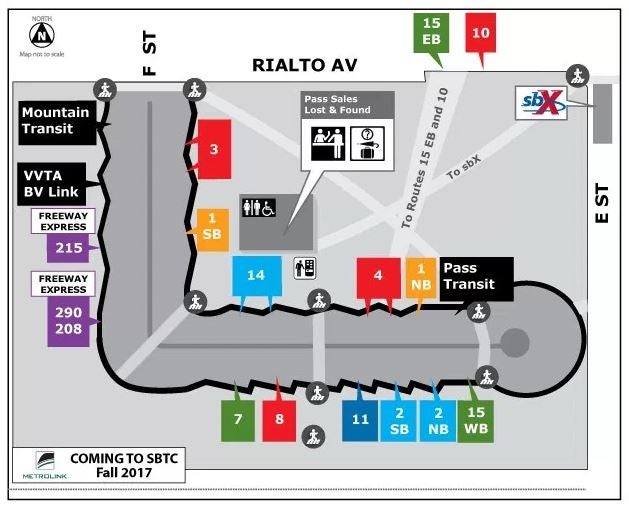 Please note the following bay assignment changes at the San Bernardino Transit Center:
Route 15 eastbound will stop on Rialto Avenue.
Route 15 westbound will stop on the south side of the transit center, next to the railroad platform.
Route 1 northbound will stop on the inside of the transit center. See page 15 of the Bus Book for more details. 
For more information, visit omnitrans.org/blog.