Omnitrans to Offer Free Rides to Veterans on Veterans Day
November 7, 2017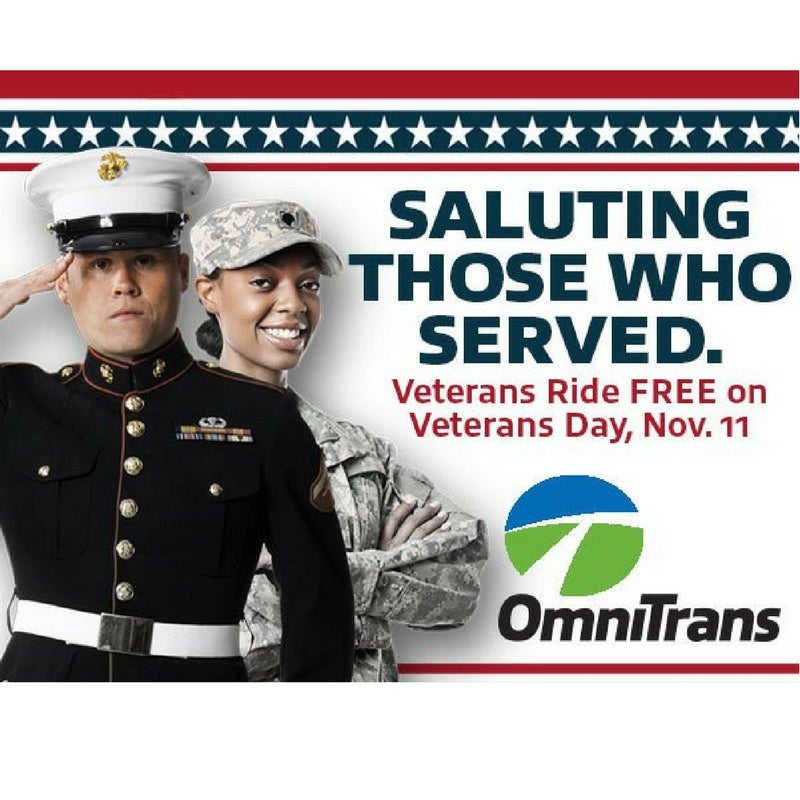 To thank and honor our veterans, Omnitrans is offering free rides to the men and women who have served in the United States Armed Forces on Saturday, November 11, 2017. It is our way of saluting those who have contributed to protecting our nation's freedom.
Veteran single ride fares will be free on the new Token Transit mobile fare app. Text "TOKEN" to 41411 to download the app. Or simply board with a Veteran ID card, indicating your retired military status. The offer is good on any Omnitrans vehicle including sbX, Freeway Express, OmniGo community shuttles, and our local fixed-route buses.
Accepted forms of ID include those issued by US Departments of Defense or Veterans Affairs, San Bernardino County Veterans Affairs, and the California Department of Motor Vehicles.
Veterans enjoy discounts throughout the year with our discounted Veterans Fare and bus passes. Required methods of proof of eligibility for such fare discount include:
County of San Bernardino Military Veterans ID card
US Department of Veteran Affairs ID card
Department of Defense retired ID card, or
a transit agency Veterans ID card
If you are a veteran and would like to apply for the San Bernardino County Military Veterans ID card, please click here to apply online.