Advanced Regional Rail Integrated Vision – East (ARRIVE) study (2014)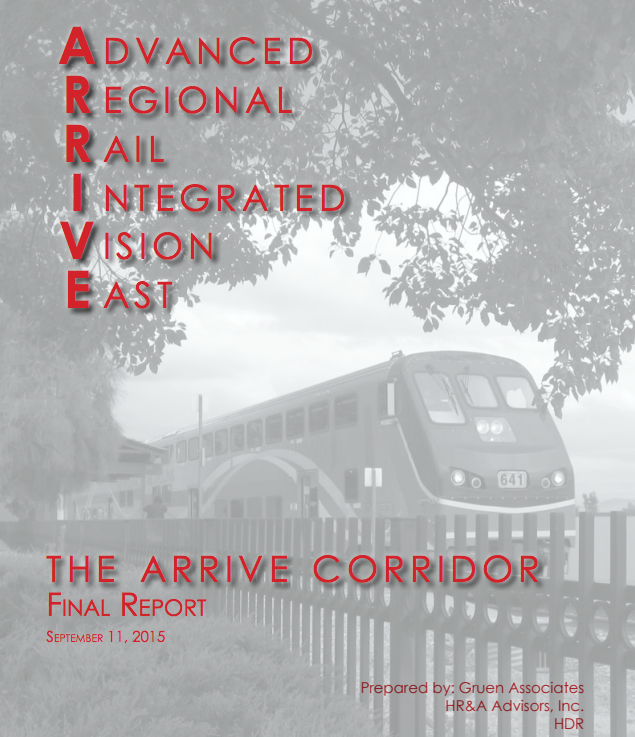 Advanced Regional Rail Integrated Vision – East (ARRIVE) Study
In 2014, SBCTA was awarded a Caltrans Transportation Planning Grant to create an integrated regional rail/land use vision and implementation strategy for the San Bernardino Metrolink Line Stations and proximate destinations.
Metrolink is Southern California's regional commuter rail system serving over 55 stations running through the Counties of Los Angeles, Orange, Riverside, and San Bernardino. The San Bernardino Metrolink line (SB Line) runs east-west through the heavily populated San Bernardino Valley connecting communities to downtown Los Angeles and a number of cities in between. The SB Line serves six stations located in Montclair, Upland, Rancho Cucamonga, Fontana, Rialto and San Bernardino.
ARRIVE Study Mission Statement:
Transition the ARRIVE Corridor, over time, to an integrated TOD/regional rail corridor, serving residents and businesses within active, growing, transit-oriented communities at the seven station locations and providing a high degree of transit interconnectivity to Valley destinations.