Mountain Area Transportation Study (2016)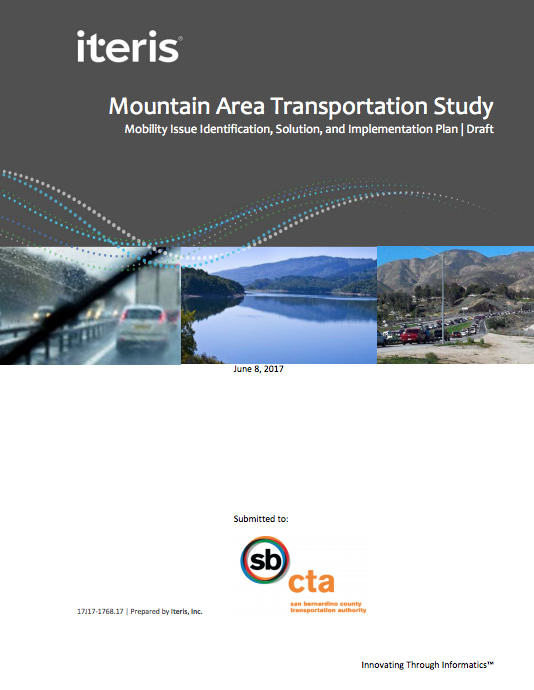 Mountain Area Transportation Study
The San Bernardino Mountain Area stretches from the Los Angeles County Line on the west to the Lucerne Valley on the east. The communities of San Bernardino County within the study area include Wrightwood, Crestline, Blue Jay, Lake Arrowhead, Running Springs, Green Valley Lake, Arrowbear and Big Bear City as well as the City of Big Bear Lake.
The primary access roadways of SR-18, SR-330, and SR-38 experience unique traffic patterns associated with visitors to the area. While the full time population and associated employment are relatively low, substantial increases occur during the peak winter and summer seasons. As a result, traffic congestion occurs for extended periods as visitors and associated additional employees attempt to access the San Bernardino Mountain communities.
Traffic congestion can also discourage would-be visitors, hindering the local economy in the San Bernardino Mountains. All relevant parties including the County of San Bernardino, the City of Big Bear Lake, Caltrans, SANBAG, SCAG, and the California Highway Patrol are committed to finding solutions to improve access to the study area by identifying, analyzing, and mitigating congested intersections and roadway segments.
Visitation levels clearly affect all mountain communities and mountain infrastructure. On a typical offpeak weekday in Year 2012, the City of Big Bear Lake had a full time population of 5,100 in about 2,200 households with employment of 3,800 while serving about 10,000 visitors. However during a peak season weekday for the same year the City of Big Bear Lake had employment of about 5,800 while serving 60,000 visitors. For Year 2040 during an off-peak weekday, the City of Big Bear Lake forecasts a full time population of 7,000 in about 3,000 households with employment of 5,400 while serving about 14,000 visitors. The City of Big Bear Lake forecasts employment of 7,400 while serving 76,000 visitors during a peak season weekday in Year 2040.