Ontario Airport Rail Access Study (2014)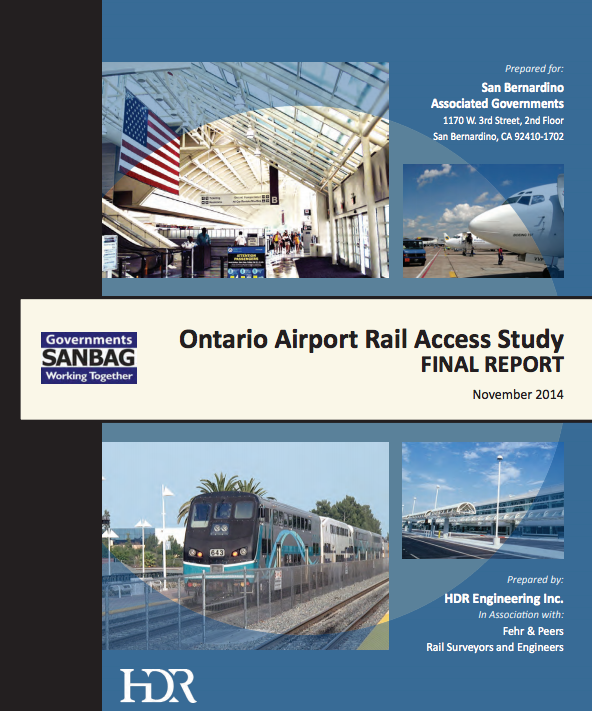 Ontario Airport Rail Access Study Basin Area Transportation Study
ONT is one of five commercial airports providing air travel in the Los Angeles metropolitan area and the only one in the Inland Empire.
Carrying the third highest passenger volume, behind Los Angeles International Airport (LAX) and John Wayne Airport (SNA), this is the only airport in the region with significant capacity for growth. Current (2012) passenger activity of approximately 3.91 million annual passengers (MAP) is down 43%, from its 2007 peak of 6.9 MAP2.
Today, access to ONT is almost exclusively by passenger vehicles, accessing the airport via surface streets and the freeway system (Interstate 10 and 15 (I‐10, I‐15) and State Route 60 (SR 60)). Airport parking is plentiful and convenient; terminal‐area parking costs $18 per day and the airport‐operated remote parking is $9 per day.Other available modes include airport shuttle services, taxis, and hotel/motel courtesy vehicles. The only available public transportation is Omnitrans Route 61 which travels on Airport Drive but does not enter the terminal area. Although, ONT is within five miles of three Metrolink stations, train schedules and bus links are not timed to coincide with flight arrivals and departures.