"Planes, Trains & Autonomous Vehicles"
October 12, 2021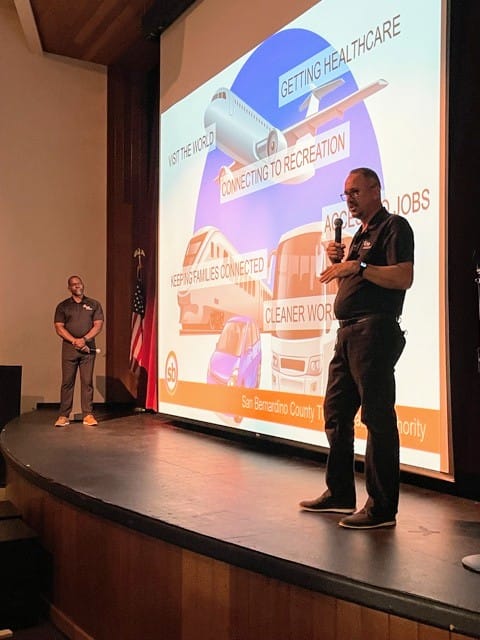 SBCTA's Director of Legislative and Public affairs, Otis Greer and Chief of Legislative and Public Affairs, Tim Watkins introduced the future of workforce to the transportation at a first-of-its-kind career pathways program on October 2 in Fontana. "Planes, Trains & Autonomous Vehicles" is bringing together a cohort of Fontana high school juniors and seniors every Saturday in October to inspire them to consider careers in transportation.
At the opening session at A.B. Miller High School, Otis and Tim engaged the students in a fascinating discussion about the transportation innovations occurring here in San Bernardino County.
Among the SBCTA-led projects highlighted: The ONT Loop, the Arrow Line, the West Valley Connector and the Brightline rail from Las Vegas to Rancho Cucamonga. These and other future transportation projects require a workforce that is more innovative, creative and open to new ideas than ever.
SBCTA is proud to help sponsor "Planes, Trains & Autonomous Vehicles" in collaboration with the City of Fontana, the Fontana Chamber of Commerce, the Fontana Unified, Colton, Etiwanda and Chaffey Joint Union High School districts, and Chaffey College.