Redlands Passenger Rail Project (Arrow)
The Redlands Passenger Rail Project is an advanced regional transportation project designed to connect residents, businesses and visitors to a variety of leisure, education, healthcare and other destinations. This nine-mile rail project provides new transportation choices through the implementation of a new rail service that integrates conveniently with other modes such as auto, bus and bicycle.
SBCTA Today: Why are you blowing the horns?
Learn why you are hearing the Arrow horns.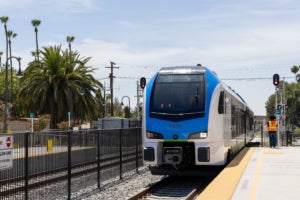 *Click the image to watch the video
**Click here to read the flyer.
Fact Sheets
Construction/Train Testing Alerts
SBCTA, in collaboration with Metrolink, began train testing in mid-February throughout the 9-mile Arrow corridor and will continue until service begins later this year.
Metrolink and Diesel Multiple Units (DMUs) trains will be used to test the tracks, signals at the crossings, and communication systems.
DMUs began testing on the corridor on Friday, April 1 and will continue  until Arrow service begins.
Each weekend in October, Amtrak will train operators using Metrolink locomotives between the San Bernardino – Downtown Station to the Redlands – Downtown Station using 7th street to turn the locomotives around during each roundtrip:

October 1 and October 2 from 7:00 a.m. to 5:00 p.m. each day.
The remaining Saturdays and Sundays in October 11:00 a.m. to 10:00 p.m. each day.

Beginning Monday, October 3 DMU trains will run along the corridor from 7:00 a.m. to 5:00 p.m. weekdays and weekends.
Crews are scheduled to resume simulated service on Monday, October 17 through Sunday, October 23 from 4:30 a.m. to 11:00 p.m. During this time, two DMUs will be on the tracks and will stop at each station:

Every 30 minutes during peak hours (5:00 a.m. – 9:30 a.m. and 3:30 p.m. – 5:30 p.m.)
Every 60 minutes during off-peak hours (9:30 a.m. – 3:30 p.m. and 5:30 p.m. – 10:00 p.m.)

In compliance with the FRA regulations, horns (two long, one short, one long) and bells will sound at street crossings throughout the corridor during training, testing, and simulated service. Per the FRA, the horns must sound at a certain decibel.
After operations begin and the FRA approves the quiet zones, the routine sounding of the train horn will no longer be required and the use of the horn will be at the discretion of the engineer and limited to safety situations that require an alert.
Safety personnel will assist with motorists and pedestrians at the intersections/crossings being tested:

City of San Bernardino: E Street, D Street, S. Arrowhead Avenue, Sierra Way, Mill Street, Central Avenue, W. Orange Show Road, Waterman Avenue, Tippecanoe Avenue, Richardson Street, Mountain View Avenue
City of Redlands: California Street, Nevada Street, Alabama Street, Colton Avenue, Tennessee Street, New York Street, Texas Street, Eureka Street, Orange Street, 6th Street, 7th Street, 9th Street, Church Street, University Street.
For your safety, if you SEE TRACKS, THINK TRAIN! SBCTA is working closely with Operation Lifesaver, Inc. (OLI) to ensure the local community is provided with rail safety education before and during train testing and rail operations of the Arrow corridor. Click here to learn more about how to stay safe around tracks and trains.