SR 210 Lane Addition/Base Line Interchange
The SR 210 Lane Addition/Base Line Interchange project, designed to provide increased traffic flow throughout this corridor, will be built as one project. To eliminate the existing bottleneck and provide lane continuity, the SR 210 will be widened from Sterling Avenue to San Bernardino Avenue in the cities of San Bernardino, Highland, and Redlands, as well as an unincorporated portion of San Bernardino County. Base Line Interchange will also be widened from Buckeye Street to Seine Avenue in the City of Highland.
Fact Sheets
EB SR 210 Temporary Crossover Lane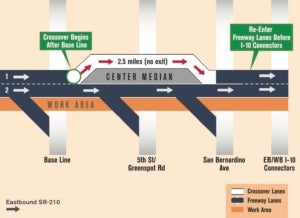 On February 4, a temporary lane configuration went in to effect on EB SR 210, between Base Line and San Bernardino Avenue. This temporary traffic pattern shifted traffic on eastbound SR 210 to the other side of the center median for 2.5 miles, allowing crews to begin pavement rehabilitation activities on the existing EB roadway. This configuration will be in place for approximately five months. Drivers who are in the crossover lane (#1 lane), will not be able to exit at 5th Street/Greenspot Road or San Bernardino Avenue. Drivers in the right lane (#2 lane) will have access to both 5th Street/Greenspot Road and San Bernardino Avenue exits.

Project Update Webinars
View previous webinars

Project Reports
March 4, 2020: SR 210 Lane Addition/Base Line Interchange Project Community Meeting