PUBLIC NOTICE: Minor Concrete Spill
March 30, 2015
ATTENTION RESIDENTS, BUSINESS OWNERS AND COMMUTERS
At approximately 12:30 p.m. on March 30, 2015, a cement truck on its way to the project site inadvertently spilled cement on northbound East Avenue, causing minor delays within the project corridor. The right northbound lane near the I-15 southbound off-ramp was temporarily closed as crews mobilized quickly to clean up the spilled concrete.
At approximately 12:55 p.m., the right northbound lane on East Avenue was reopened to traffic. There were no injuries reported from this incident.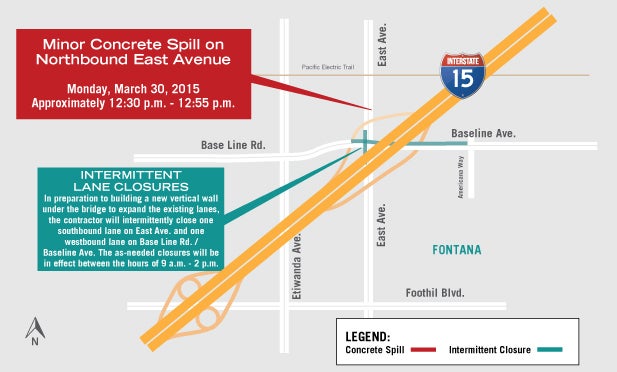 We are committed to providing a safe environment for residents, motorists and our construction team. Please continue to observe and respect all signage, construction barricades, equipment, materials and personnel working in the construction zone and always remember to…SLOW FOR THE CONE ZONE.
Thank you for your continued patience and support during this improvement project.
Media Contact:
Tim Watkins, SANBAG Chief of Legislative and Public Affairs
909.884.8276 | Office
909.723.7720 | Mobile
twatkins@sanbag.ca.gov