Public Transit Offers Reliable, Cost-Effective Alternative to Rising Gas Prices
September 25, 2023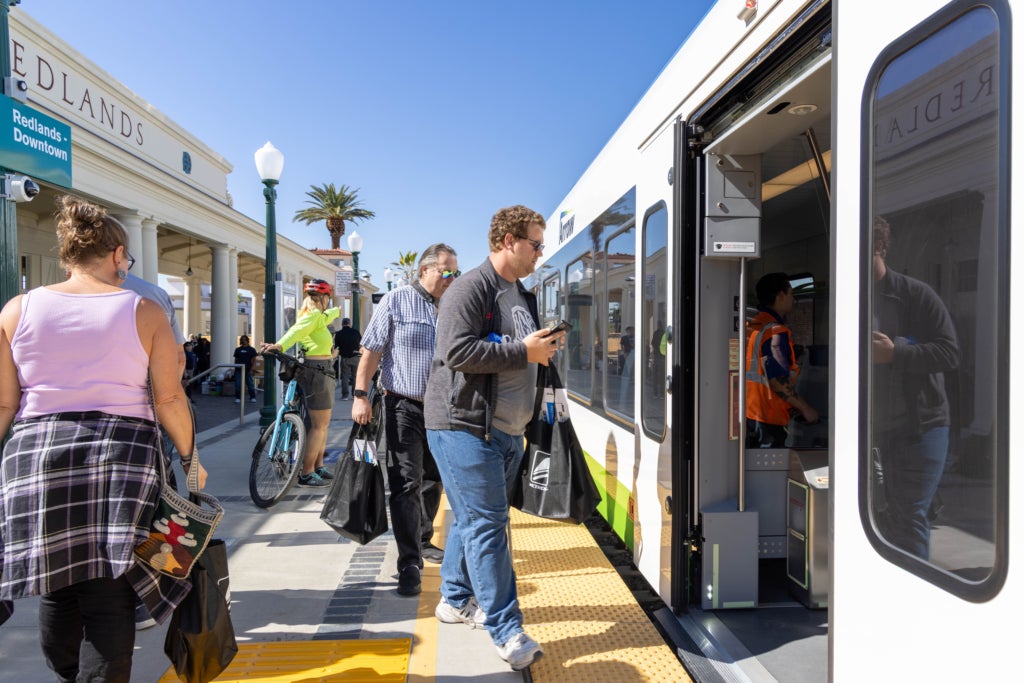 The San Bernardino County Transportation Authority (SBCTA), Metrolink and Omnitrans are encouraging commuters to explore the region's growing public transportation options in light of record-high gasoline prices.
"The recent spike in fuel costs has created an economic hardship for many of our residents. The investments we've made in transit infrastructure have significantly increased the availability of accessible, affordable and convenient public-transit options across our region," said SBCTA Board President Dawn Rowe.
Among the notable recent additions is the Arrow Line, a nine-mile rail connector between Redlands and Metrolink's popular San Bernardino Line. Arrow creates convenient access to and from heavily traveled population and employment centers, including downtown Redlands, the University of Redlands and the global data mapping firm Esri. The line also has been hailed for its sustainability, currently featuring low-emission diesel multiple units that will be transitioned, starting in 2024, to zero-emission hydrogen fuel cell powered vehicles. Commuters to downtown San Bernardino can utilize Omnitrans' SB Connect shuttle, which provides service from Arrow or Metrolink to destinations including San Bernardino courts, county offices and the Government Center.
Projects such as the Arrow Line were made possible, in large part, through funding from Measure I, the taxpayer-supported one-half cent sales tax for transportation improvements across San Bernardino County. Measure I is administered by SBCTA, and in the case of the Arrow Line, contributed more than $200 million to the project's overall cost.
Darren Kettle, CEO of Metrolink, said public transit offers an alternative not just to rising fuel prices, but traffic congestion and the added greenhouse gas emissions that creates. "With the addition of the Arrow Line, commuters from the East Valley and beyond have an affordable, accessible and sustainable way to connect all the way to Los Angeles, with stops and additional connections along the way. We encourage all commuters to discover or rediscover public transportation and to reduce the stress and financial strain they might be feeling," Kettle said.
Erin Rogers, CEO of Omnitrans, noted that gasoline prices approaching $7 per gallon are beginning to increase demand for public transit. Omnitrans currently provides about 11 million passenger trips per year.
"While some of the reasons for the recent increase in fuel costs may be temporary, commuters are re-evaluating how much they are willing to pay for daily trips. Many are also discovering how convenient and accessible public transit like Omnitrans can be," Rogers said.
Omnitrans' fixed-route service area covers 15 cities and portions of unincorporated areas of San Bernardino County, to major transportation centers, medical centers, educational facilities, shopping malls, business parks and community centers. Among the agency's recent service enhancements is the new ONT Connect line, a shuttle service between Ontario International Airport and Metrolink's Rancho Cucamonga Station.
To learn more about your public transit options, visit metrolinktrains.com or omnitrans.org.