Rail Safety Week is here … here's what it means
September 22, 2021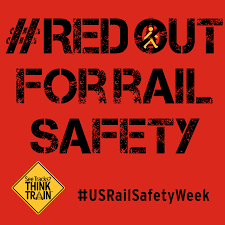 We've focused a lot on the exciting new transit opportunities coming our way – transformative projects such as the Arrow line and the expansion of service into and out of the newly rebranded Cucamonga Station.
But this month – and this week, in particular – also serve as a reminder that we need to be more vigilant than ever when it comes to rail safety.
It might surprise you to know that a rail accident occurs every three hours in the United States, usually the result of illegal trespassing on a track or poor judgment by a motorist at a rail crossing. Consider, too, that it takes more than a mile for a fully loaded train to come to a complete stop when traveling at 50 mph.
Which brings us to Rail Safety Week – a joint effort by Operation Lifesaver Inc., Amtrak Police, and law enforcement and transportation agency partners across the nation to raise awareness of the need for caution near railroad tracks. SBCTA is proud to join in this effort, and urge drivers, pedestrians and anyone who might be in the vicinity of railroad tracks and trains to use common sense and be alert.
Here in San Bernardino County, trains are a big part of our future – and our present. In addition to our expanding passenger rail system, our region is home to one of the most robust freight rail networks in the world. Know the facts, make good decisions, and together, we can make our rail lines a model for safety. For additional rail safety tips visit www.caol.us.
Also, please join us in solidarity to promote rail safety by wearing red on Friday, September 24! #RedOutForRailSafety #RailSafetyMonth #StayClear #StaySafe