Ride Metrolink For Free to Attend NASCAR Auto Club 400 Race this Sunday
March 12, 2018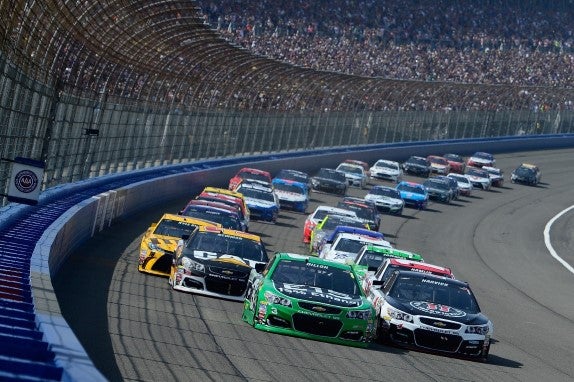 All aboard Metrolink trains, powered by state-of-the-art Tier 4 technology, to watch the race!
Metrolink will once again make a special pit stop on the back straight-away at Auto Club Speedway for the Monster Energy NASCAR Cup Series Auto Club 400 race on Sunday, March 18, 2018.
Free round-trip tickets are available to fans who purchase Auto Club 400 race tickets, thanks to the support from the South Coast Air Quality Management District (AQMD), Mobile Source Air Pollution Reduction Review Committee (MSRC).
Metrolink will be operating special trains for this race with new state-of-the-art Tier 4 locomotives, which are the cleanest diesel locomotives in the nation. These locomotives are compliant with the latest U.S. Environmental Protection Agency (EPA) emissions standards and will reduce particulate matter and nitrogen oxide emissions by up to 85 percent, resulting in cleaner air for the entire region.
"Thanks to the support of the MSRC and AQMD, Metrolink is excited to offer convenient service to NASCAR fans across Southern California," said Metrolink Board Chair Andrew Kotyuk. "With Metrolink's direct service to the Auto Club Speedway, race fans save time, money and stress. Don't sit in a car to watch race cars, ride Metrolink."
Limited tickets are available. Three trains will originate from Oxnard, Lancaster and Oceanside with limited stops in between for faster service. The trains will arrive at Auto Club Speedway in Fontana before 10 a.m., leaving fans plenty of time to take part in Auto Club 400 race day activities leading up to the Monster Energy NASCAR Cup Series race starting at 12:30 p.m.

Route 1: Oxnard to ACS
Oxnard
Moorpark
Chatsworth
Van Nuys
Covina
Montclair
Rancho Cucamonga
Auto Club Speedway
Route 2: Lancaster to ACS
Lancaster
Santa Clarita
Sylmar/San Fernando
Downtown Burbank
L.A. Union Station
Auto Club Speedway
Route 3: Oceanside to ACS
Oceanside
San Clemente
Irvine
Orange
Riverside-La Sierra
San Bernardino
Auto Club Speedway

For additional information, visit metrolinktrains.com.