San Bernardino Countywide Zero Emission Vehicle Readiness and Implementation Plan
November 12, 2019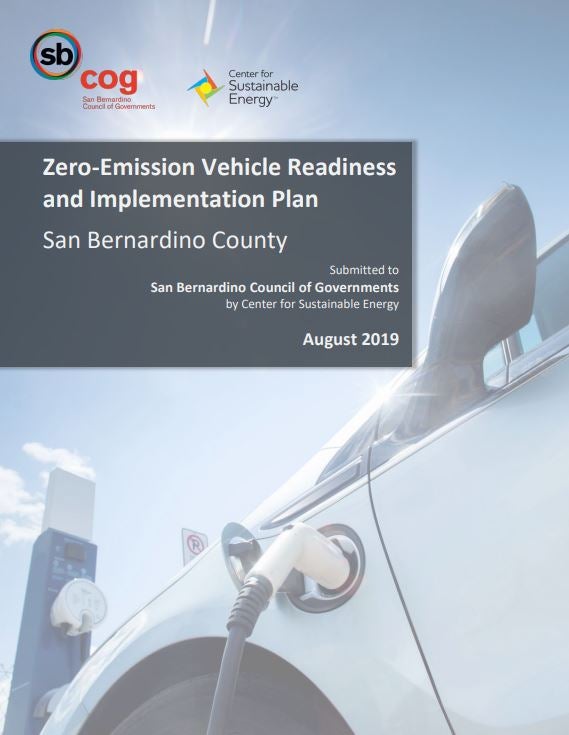 San Bernardino Council of Governments (SBCOG) presented the San Bernardino Countywide Zero Emission Vehicle Readiness and Implementation Plan at this month's Board of Directors meeting. The plan, funded through a grant awarded to SBCOG from the California Energy Commission (CEC), was based on Governor Brown's Executive order to support benchmarks to bring 1.5 million zero emission vehicles (ZEVs) to California's roads. In addition, it ensures that Californians have easy access to ZEV infrastructure to charge the vehicles by 2025, enhancing the commitment to the adoption of five million ZEVs on the road by 2030.
Working together, SBCOG and the Center for Sustainable Energy developed the ZEV Readiness and Implementation Plan for San Bernardino County. An assessment of the current ZEV charging infrastructure within the county was completed. This led to an analysis and recommendation for additional ZEV infrastructure at public agencies, workplace, destinations, and transit stations with a focus on disadvantaged communities. Ultimately, a plan to execute actions to promote ZEV and ZEV infrastructure adoption over the next 10 years will be pursued, providing local governments and stakeholders with tools to effectively procure, site, and install infrastructure. A list of potential "shovel-ready" projects in the county will be created to help the cities in our county.
The implementation of the Zero Emission Vehicle Readiness and Implementation Plan will be pursued on an ongoing basis over the next 10 years in three intervals: near-term (0-2 years), mid-term (2-5 years) and long-term (5-10 years).
For more information on the plan and implementation strategies, view the plan here.