San Bernardino Santa Fe Depot Celebrates Centennial
July 16, 2018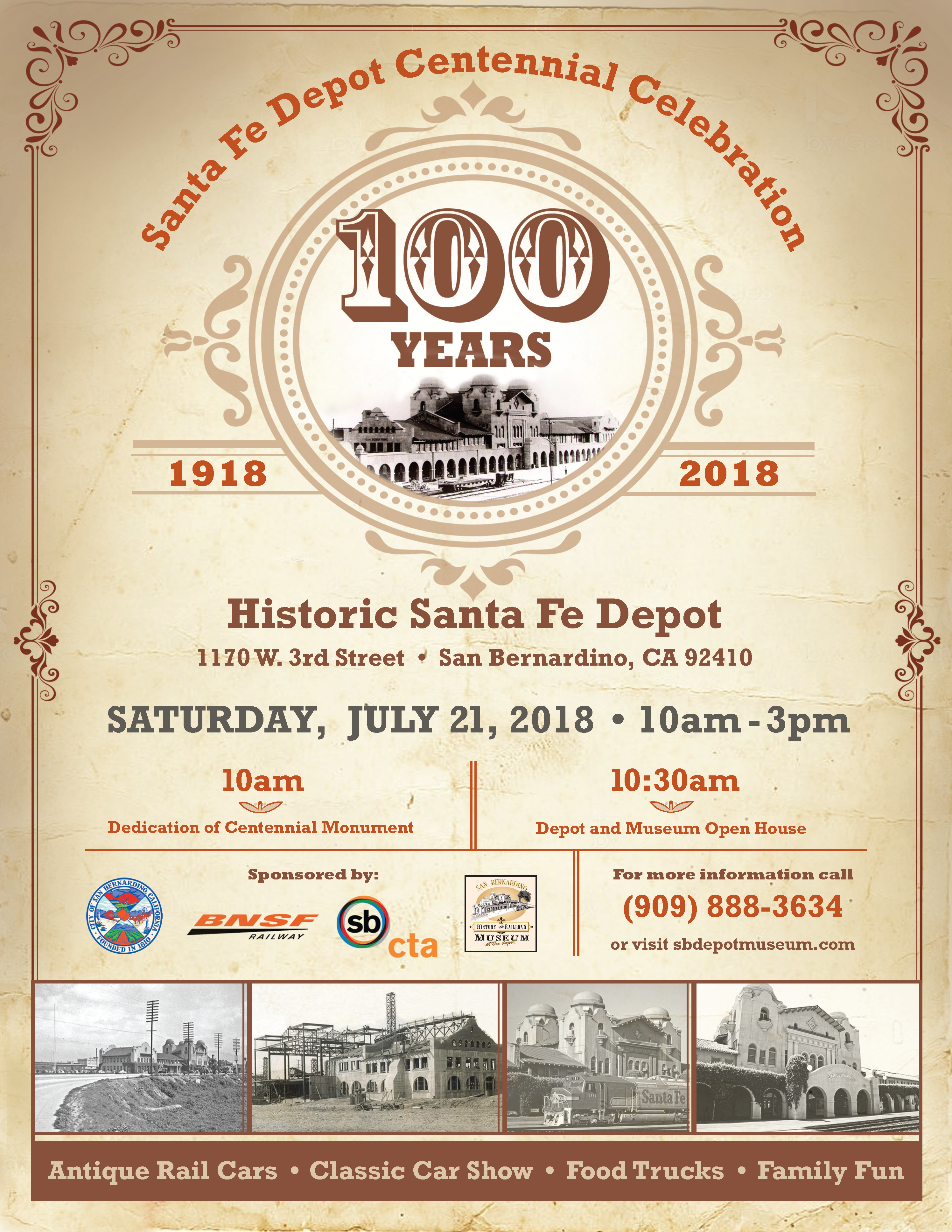 Historic building to mark 100 years with ceremony, open house and community event
SAN BERNARDINO, CA – The City of San Bernardino and the San Bernardino County Transportation Authority (SBCTA), along with the San Bernardino History & Railroad Museum, will commemorate the centennial of the historic San Bernardino Santa Fe Depot building with an event on Saturday, July 21st.
"The Santa Fe Depot has historically played a significant role in the economy of both the City of San Bernardino and the region. The Depot is a historic landmark with 100 years of rich history, outstanding service and pride for the City of San Bernardino. In honor of the Depot's centennial, we will also issue a proclamation at the July 18 meeting of the Mayor and City Council." said San Bernardino Mayor R. Carey Davis.
The San Bernardino Santa Fe Depot was opened 100 years ago on July 15, 1918. The original building that stood in its place was first built in 1886, but the wooden structure was destroyed by fire in 1916. The current steel and concrete building we see today replaced it two years later.
The Depot once was a bustling transportation center, but fell into disrepair amid a decline in passenger rail service and was closed by the 1990's. The City of San Bernardino and SBCTA, then known as SANBAG, joined in a $15.1 million rehabilitation effort in 2002. The building was restored to its former beauty and reopened in 2004.
"As the lead transportation agency in the county, it is a privilege for SBCTA to call the Santa Fe Depot its headquarters," said SBCTA Board President and San Bernardino County Supervisor James Ramos. "The Depot has been a critical part of transportation in San Bernardino County for the past 100 years, and we look forward to its viability well into the future."
The centennial celebration will include a ceremony, at 10 a.m. with local dignitaries, to dedicate a new granite marker commemorating the history of the San Bernardino Santa Fe Depot. Following the ceremony, community members are invited to the Depot and the History & Railroad Museum for an open house displaying photos and artifacts from the nineteenth century to today, as well as a classic car show, food trucks and rail cars from BNSF outside the Depot for families to enjoy.
The San Bernardino Santa Fe Depot is located at 1170 W. 3rd Street in San Bernardino. More information can be found at sbdepotmuseum.com.
###