San Bernardino Transit Center Completion Ceremony – August 24, 2015 @ 9 a.m.
August 17, 2015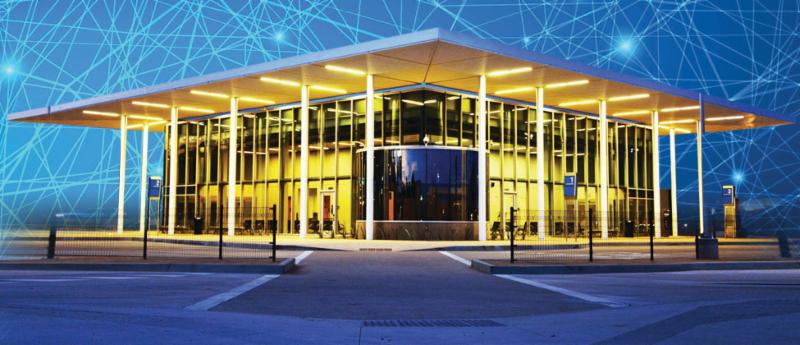 San Bernardino Transit Center
Completion Ceremony
599 West Rialto Avenue, San Bernardino, California
9:00 – 10:30 am, Monday, August 24, 2015
Ceremony ~ Facility Tours ~ Refreshments ~ Entertainment Attendees are encouraged to walk, bicycle, or take public transit to the ceremony.
The location is served by Omnitrans Route 2, 15 and the sbX green line.
Routing assistance available at omnitrans.org or 1-800-9-OMNIBUS.
Parking is available at the northwest corner of Rialto Avenue and F Street and at the Carousel Mall.


Please join us to celebrate the completion of our new state-of-the-art, LEED Gold design, multi-modal transportation hub which will connect:
Omnitrans local and express bus routes including the sbX green line
Mountain Transit and Victor Valley Transit Authority bus routes
Metrolink San Bernardino Line (late 2016)
Future Redlands Passenger Rail Project
The San Bernardino Transit Center project represents more than a decade of visioning partnership between Omnitrans and the San Bernardino Associated Governments (SANBAG).
Program will include remarks from:
Sam Spagnolo, Board Chair, Omnitrans; Mayor Pro Tem, Rancho Cucamonga
Pete Aguilar, Representative, United States Congress
Leslie T. Rogers, Regional Administrator, Federal Transit Administration
Fran Inman, Commissioner, California Transportation Commission
Ryan McEachron, Board President, SANBAG; Councilmember Victorville
R. Carey Davis, Board Member, Omnitrans; Mayor, City of San Bernardino
Emcee, Steve Wendt, Director of Broadcasting, Inland Empire 66ers
Event will feature:
Refreshments and a commemorative gift
Butterfly release symbolizing the transformation of San Bernardino's transit system
Music by Xclusive, a local band featuring several Omnitrans coach operators
Self-guided tour of the SBTC building and grounds
Info tables on LEED design and landscape features, public art elements, future rail connections, bicycle resources, and local transit history
"Exploration" mural by Louie Solano, a local artist and native of San Bernardino
Photo ops with Omnitrans mascot Buster the Bus & IE66ers mascot Bernie
Please RSVP to 909-379-7150 or tembi.tovar@omnitrans.org.