SB Connect Shuttle Provides a Safe, Easy Connection between San Bernardino Transit Center and Downtown Offices and Courts
October 25, 2022

Every day, thousands of people travel to Downtown San Bernardino – County employees, customers of County services, jurors and others who need to get to Superior Court. Starting this week, public transportation will deliver them right to their destination – easily and safely.
The new SB Connect shuttle service will link the San Bernardino Transit Center, which is served by Metrolink, Omnitrans, VVTA, RTA, Beaumont, Sunline and Mountain Transit and the brand new Arrow train from Redlands, with key destinations in downtown San Bernardino.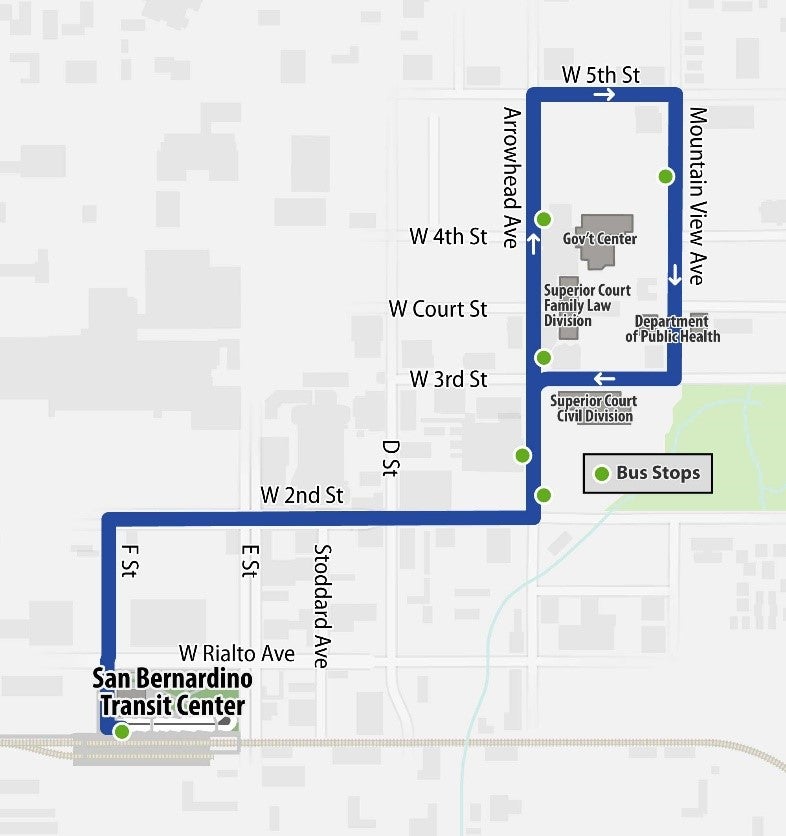 The boldly branded first/last mile shuttle will be timed to meet weekday Arrow trains and take riders directly to stops near the County Government Center, Superior Courts and the Department of Public Health, then return them to the transit center. Shuttles will run Monday through Friday from about 6:00 AM to 7 PM.
The ride is free to anyone with a valid Metrolink or Arrow ticket or any Omnitrans pass.
"This is a project which has been a long time coming," said Art Bishop, President of the San Bernardino County Transportation Authority.
The San Bernardino Transit Center is a hub for public transit services in western San Bernardino County. Riders can easily get there directly from Ontario, Redlands, Victorville, Crestline and a dozen other communities by riding Metrolink, Omnitrans, VVTA, Mountain Transit or the brand new Arrow train service from Redlands.
"The final leg of the trip from the Transit Center to County offices and Courts has always been a challenge for people who might be unfamiliar with the downtown area or uncomfortable walking," Bishop said. "Now the SB Connect will make the final leg of the trip quick, easy and safe."
Erin Rogers, CEO/General Manager of Omnitrans, said, "We're pleased to partner with SBCTA to provide new transit connections from the San Bernardino Transit Center. While SB Connect is being introduced in conjunction with Arrow train service, it will benefit all transit users coming into the downtown area, whether they arrive on Omnitrans or one of our six partner agency services."
SB Connect is funded by SBCTA and operated by Omnitrans. More information about the service, including maps and schedules is available at goSBCTA.com or Omnitrans.org/omniconnect-shuttle-services.