SBCOG Looks at Possible Formation of Housing Trust
March 7, 2022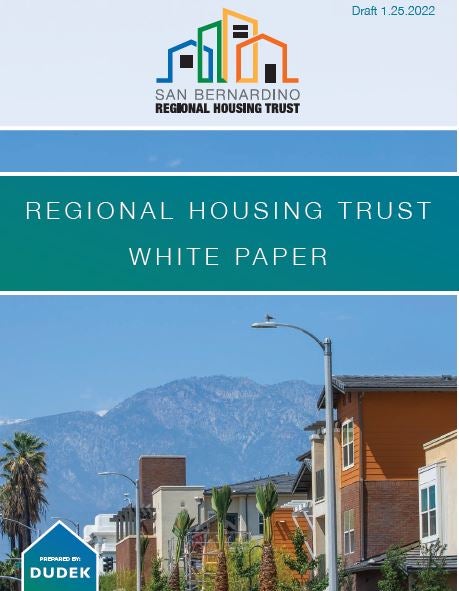 Housing supply is one of the most critical issues today facing the State of California, including San Bernardino County.  The state and county face a significant housing supply and affordability crisis spurred by high land costs, rising construction costs, and limited financing options. These issues and challenges have become localized with compounding, interrelated impacts on housing supply, homelessness, and economies at the local and regional scale.
27,000 housing units were produced during the last Regional Housing Needs Assessment (RHNA) cycle, 2013-2021.  The allocation for the county was approximately 57,000 units, a shortfall of nearly 30,000 units.  Further, less than 10 percent of the RHNA for very low and low-income housing needs was met. The next RHNA Allocation Plan, 2021-2029, calls for jurisdictions within the County to produce approximately 138,000 units, more than double the needed units from the last cycle.
A housing trust is one approach to address housing challenges related to supply and affordability. A housing trust raises funds for affordable housing production, preservation, and rehabilitation, and support for other housing programs. Using funds from a state Regional Early Action Planning (REAP) grant, the San Bernardino Council of Governments (SBCOG) contracted with the consulting firm Dudek to prepare a Housing Trust White Paper discussing the potential benefits, structures, and an assortment of relevant case studies regarding the formation of a Regional Housing Trust Fund (Housing Trust). The Housing Trust White Paper can be viewed here.
The Housing Trust White Paper outlines different operational structures that SBCOG could utilize in establishing a Housing Trust and potential funding sources to support the new entity. The Southern California Association of Governments (SCAG) recently announced that $246 million would be available in REAP 2.0 grant funding for the SCAG region.
SBCOG staff will be coordinating with the City/County Manager's Technical Advisory Committee in the coming weeks to review next steps in establishing the Housing Trust and will be bringing the issue to the full Board of Directors in the coming months.