SBCTA and Stadler unveil 1st ZEMU Hydrogen-Powered Train
September 22, 2022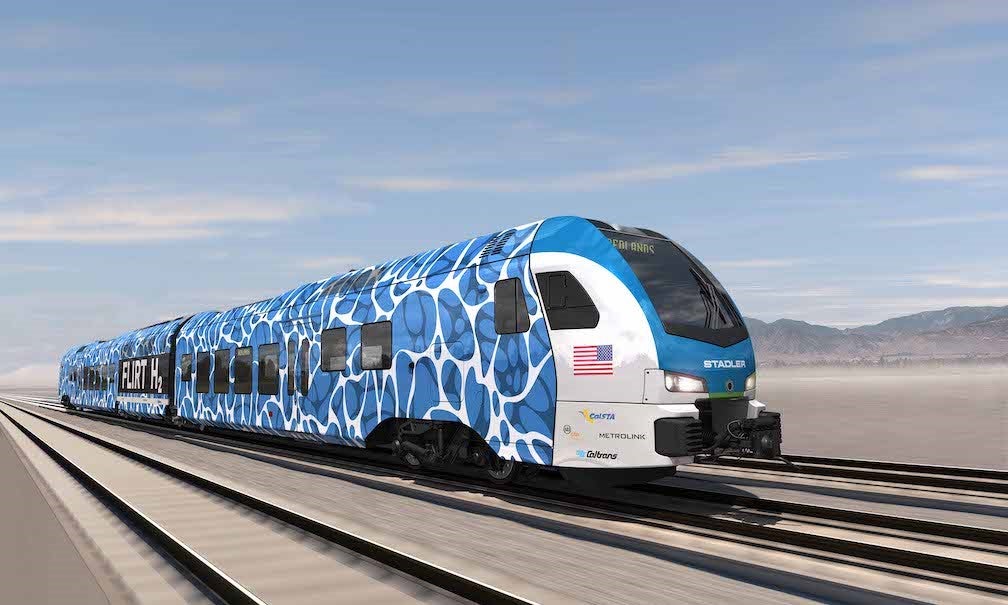 SBCTA and Stadler unveiled what will become North America's first hydrogen-power train – the FLIRT H2. Coming to the Arrow line as part of the Redlands Passenger Rail System in 2024, the FLIRT H2 was showcased at InnoTrans conference in Berlin last month.
The zero-emission multiple unit (ZEMU) is equipped with a power pack that uses modular fuel cells and batteries that can be tailored to the requirements of different operational areas. It will replace Stadler's FLIRT diesel-multiple unit (DMU), which will debut as part of the Arrow line service later this year.
"We're thrilled to be able to partner with Stadler in introducing this revolutionary zero-emission transit technology to our country and to our community in San Bernardino County," said Art Bishop, President of the SBCTA Board of Directors. "This kind of innovative transit solution will go a long way toward addressing air quality concerns in regions such as ours, while offering passengers a unique riding experience."
Last month's unveiling comes three years after SBCTA partnered with Stadler to design and build the first hydrogen-powered FLIRT. The train consists of two passenger cars and a middle car called the power pack. This middle car contains the fuel cells and hydrogen tanks. To power the trains, hydrogen is converted to electricity. This electricity is sent to a traction battery. The battery then supplies the drive motors of the vehicle with the power required at any given time. This configuration also allows for recuperation of brake energy back to the battery. Therefore, the battery stores both braking power and power from the hydrogen cells. The FLIRT H2 is able to operate all day without re-fueling.
"Stadler is incredibly proud to be delivering the first hydrogen train for American passenger transport. The FLIRT H2 is the latest addition to our portfolio of alternative drives. As a technology leader, we are offering our customers a solution tailored to their needs when converting diesel fleets to modern, sustainable rail transport," said Ansgar Brockmeyer, Executive Vice President Sales & Marketing and Deputy Group CEO of Stadler.
The Arrow line is a 9-mile rail extension between Redlands and San Bernardino – the current end point for Metrolink's popular San Bernardino line.