SBCTA Approves Sale of Property for Development of Brightline West Transit Station at Cucamonga Station
October 11, 2022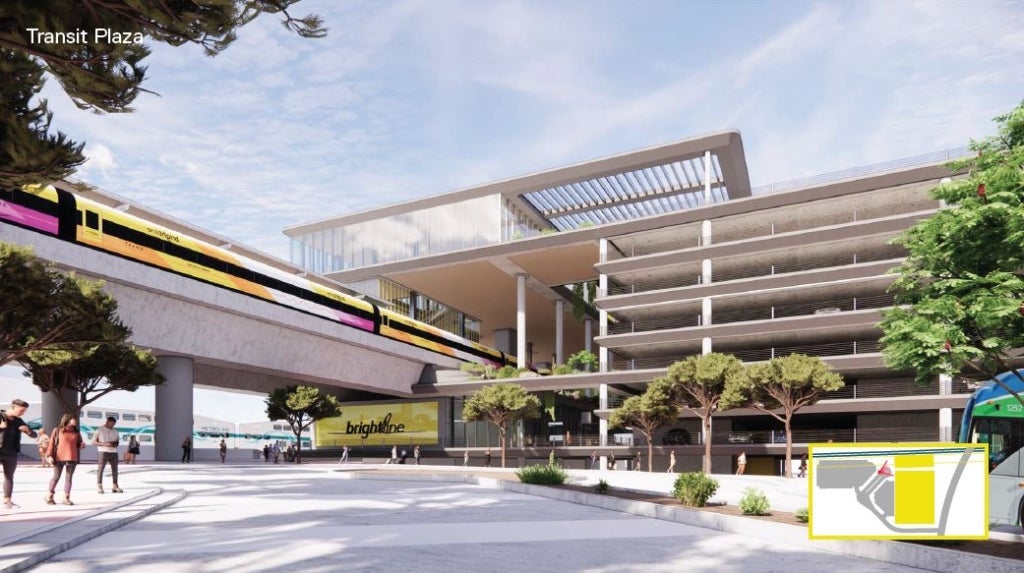 The SBCTA Board of Directors passed another milestone in the effort to bring a high speed rail connection, from Las Vegas and the High Desert, to the San Bernardino Valley.
The Board, along with the Rancho Cucamonga City Council, approved the sale of a five-acre portion of the jointly owned property at Cucamonga Station to Brightline West.
The agreement clears the path for Brightline West to develop the property and build the first high-speed rail station in the Inland Empire. Brightline is the only private provider of modern, eco-friendly intercity rail service in America. The company currently operates between Miami, Fort Lauderdale, and West Palm Beach in Florida and is scheduled to complete construction to the Orlando International Airport by the end of 2022.
"The public-private partnership between Rancho Cucamonga, SBCTA, and Brightline West will help transform the region through an exciting multi-modal transportation hub in the heart of the Inland Empire," said City of Rancho Cucamonga Mayor Dennis Michael. "Cucamonga Station aligns with our City's quest to anticipate and embrace the future, relentlessly pursue improvement, and promote a safe and healthy community for all."
Transportation modes at Cucamonga Station will provide service through high-speed rail, the Metrolink San Bernardino Line, and Omnitrans Bus Rapid Transit and local bus service, as well as serve carpool commuters.
Plans are also moving forward for a sub-terranean loop to Ontario International Airport (ONT), led by SBCTA, where passengers will be transported in just a few minutes between Cucamonga Station and airport terminals. In anticipation of deploying this service, Omnitrans has already launched ONT Connect, a regular shuttle service from Cucamonga Station to the airport that operates daily every 35-60 minutes.
"This agreement is a culmination of several years of working together with our partners and is a key milestone to bring high-speed rail to the Inland Empire," said John Gillison, City Manager for the City of Rancho Cucamonga. "Cucamonga Station will serve as a global connectivity anchor within the newly branded HART District."
"We are pleased to take this next important step forward in bringing enhanced transit connectivity to one of the fastest-growing population and economic centers in the country," said SBCTA Board President Art Bishop.