SBCTA Board Elects New Vice President
January 8, 2021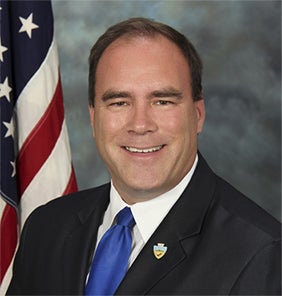 Due to the results of the November 3, 2020 elections, the position of the SBCTA Board of Directors Vice President was left vacant. At their January 6, 2021 meeting, the Board held elections to fill that vacancy. Board members elected San Bernardino County Fourth District Supervisor Curt Hagman as the new Board Vice President.
Supervisor Hagman is a long time public servant, dedicated to serving our local communities. He served as a Parks & Recreation Commissioner for the City of Chino Hills before being elected to the City Council, and also served as Mayor. He was elected to the California State Assembly in 2014 and served six years in the State Legislature. Supervisor Hagman was elected to the County Board of Supervisors in 2014 and re-elected in 2018. He was chosen by his colleagues as Chair of the Board of Supervisors in January 2019.
Supervisor Hagman also serves as a Board Director of the Southern California Association of Governments (SCAG) and as the Chairman of SCAG's Emerging Technologies Committee. The Supervisor is keenly interested in the role that new and emerging technologies can play in creating a more efficient and cost effective transportation system. He also serves as Commissioner at the Ontario International Airport Authority. It was this interest that was the catalyst for SBCTA exploring a subsurface connection between local transit and Ontario International Airport.