SBCTA formally celebrates 50 years of innovation to meet the transportation, growth, air quality needs of San Bernardino County
October 5, 2023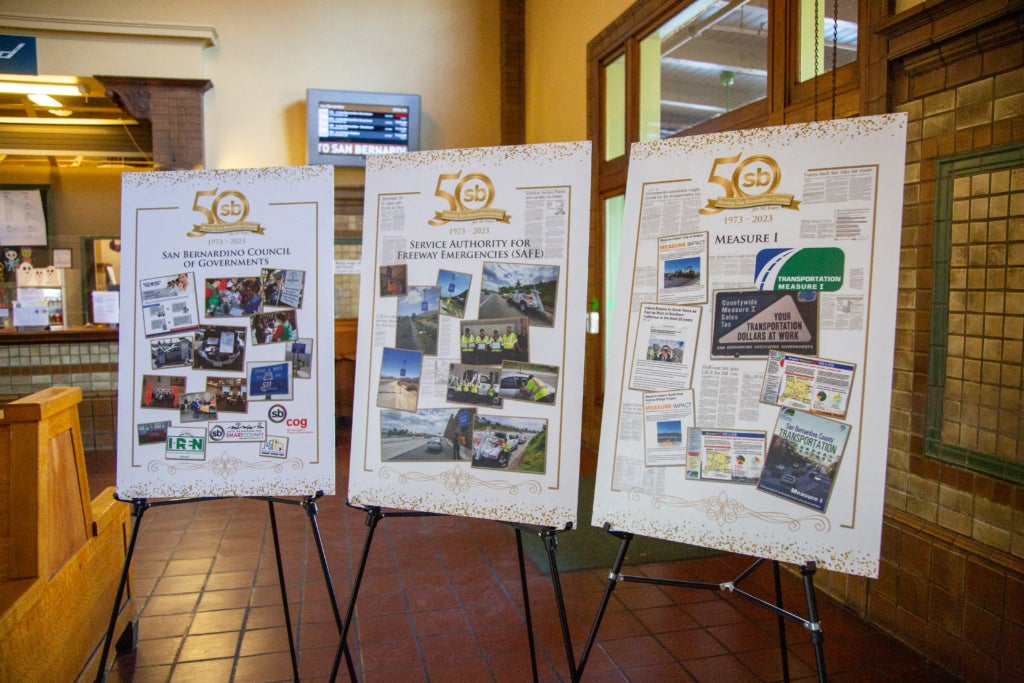 The San Bernardino County Transportation Authority (SBCTA) formally celebrated its 50 years of leadership and innovation in meeting the transportation access needs of one of the fastest-growing population and economic centers in the United States.
The celebration at the Santa Fe Depot in San Bernardino was an opportunity to reflect back on SBCTA's critical role across the largest geographic county in the U.S. and to look ahead to some exciting, and historic, transportation improvements coming down the pike.
"Over the last 50 years, SBCTA has delivered many projects that have improved the lives of San Bernardino County residents: The extension of the 210 freeway to San Bernardino; the opening of the 71 Expressway between Los Angeles and Riverside Counties in the western portion of our valley; bringing Metrolink to San Bernardino – and now Redlands; the improvements to the Devore Interchange; the Colton Crossing project; as well as improvements to numerous bridges and roads to help local circulation continue to function," said Dawn Rowe, Chair of the SBCTA Board of Directors and a San Bernardino County Supervisor.
SBCTA was formed in March 1973 as the San Bernardino Associated Governments (SANBAG). At the time, San Bernardino County had seen its population swell in excess of 700,000 and was emerging as a major Southern California population, employment, and business center. That growth brought its challenges, too – notably, an outdated mid-century transportation grid that needed significant care and upgrading.
Since then, SBCTA has emerged as a regional and national leader in bringing innovative transportation solutions to one of the fastest-growing population and economic centers anywhere.
"We are grateful for the vision and determination that our predecessors showed a half-century ago. Today, we confront similar challenges, along with some new ones, but are better equipped than ever to deal with them and improve the quality of life across our county," said Dr. Raymond Wolfe, SBCTA's Executive Director.
SANBAG/SBCTA originally was governed by a 19-member general assembly, including five supervisors and one delegate from each of the county's 14 cities. Today's SBCTA Board consists of 29 members – five supervisors and one delegate from each of the 24 incorporated cities.
Along with more cities, the county's population has continued to grow, tripling to nearly 2.2 million today.
"We are fortunate to live in such a dynamic region, but as our own history has taught us, we need to continue innovating and finding ways to meet the needs of a population that is growing much faster than anyone could have anticipated," said Deborah Barmack, former SANBAG Executive Director.
Another former Executive Director, Norm King, noted that SANBAG/SBCTA has taken a leadership role in addressing air quality issues, including endorsing annual smog inspections, promoting public transit and enhancing our highway system to reduce congestion and the accompanying greenhouse gas emissions.
"All of this occurred while SBCTA was developing a modern transportation grid to meet the needs of our growing county," King said.
Today, SBCTA is on the front line of bringing hydrogen-powered passenger rail service to the U.S., part of the recently opened Arrow Line, as well as a high-speed rail system from Las Vegas through the High Desert and into the recently rebranded Cucamonga Station.
"From the earliest days of SANBAG, our county transportation agency has looked for – and found – creative ways to connect people and places across the largest geographic county in the U.S. This has also helped to fortify our economy by opening up new business opportunities, attracting more jobs and helping to establish us as the place to live and work in Southern California," said Rowe
She pointed to the importance of Measure I in providing funding for many critical projects. The half-cent sales tax was twice approved by county voters – first in 1989 and again in 2004 – and has has funded billions of dollars and leveraged billions more in State and Federal funding.
"The foresight and trust shown by the voters of San Bernardino County played a critical role in the positive growth of the region," Rowe said.