SBCTA, Stadler Unveil First-of-its-Kind Hydrogen Powered Passenger Train
October 10, 2023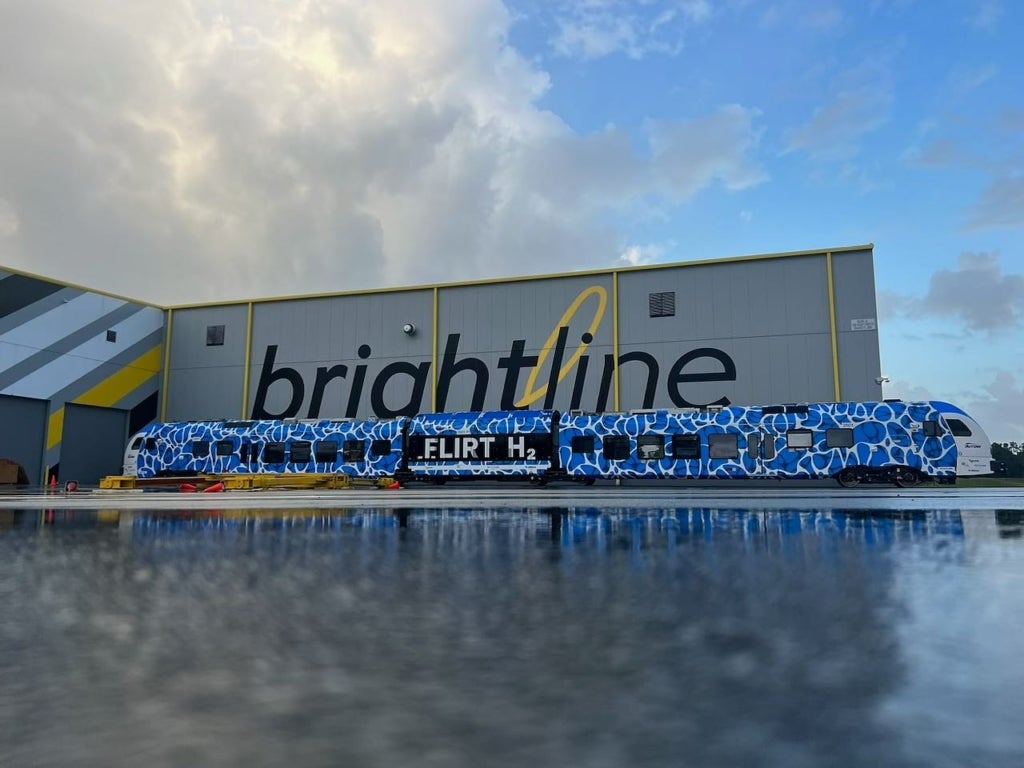 A decade ago, the San Bernardino County Transportation Authority (SBCTA) envisioned and committed to a modern, sustainable passenger rail system that would redefine commuter transit along one of the busiest transportation corridors in the United States.
This week, that vision was on full display at the APTA EXPO in Orlando, where SBCTA and Stadler presented the first hydrogen-powered FLIRT H2 passenger train – a Zero-Emission Multiple Unit (ZEMU) that will be launched into Arrow fleet as part of Metrolink service from Redlands to San Bernardino in late 2024.
This week's unveiling of the FLIRT H2 represents a pivotal moment for mass transit across Southern California and the U.S. It represents more than 10 years of planning and development by SBCTA, which saw the need for efficient, sustainable passenger rail as part of the regional transportation ecosystem. The agency serves one of the fastest-growing economic and population centers in the country, as well as one of the more challenged air quality basins in North America.
Eventually, SBCTA partnered with Stadler, the Switzerland-based train builder with a global reputation for social responsibility, sustainability and innovation. In 2019, SBCTA and Stadler signed the first-ever contract to develop a fully compliant hydrogen-powered train in the U.S.
Ray Marquez, SBCTA Board Vice President and Chino Hills City Councilmember, was on hand for today's unveiling. He described the FLIRT H2 as "a game changer when it comes to sustainable, alternative-energy passenger rail in the U.S."
"More than a decade ago, SBCTA recognized a need in our community to not only expand passenger rail service, but to come up with a greener alternative. This partnership gets us there," Marquez said. "We're also inspired by the innovation, engineering and brilliance of our partners at Stadler. The FLIRT H2 is a 21st century marvel and something that we'll be admiring for decades to come."
Eventually, the ZEMU will replace the low-emission Diesel Multiple Units (DMUs) that have run on the eastern 9-mile portion of the Metrolink Line since its opening in 2022.
"We identified the DMU version of the Arrow vehicles as the interim solution to launch service, but had zero-emissions as the final goal, making the FLIRT H2 the ultimate solution," Marquez offered.