SBCTA's ZEMU Project Receives IEEP Innovation Award
November 9, 2020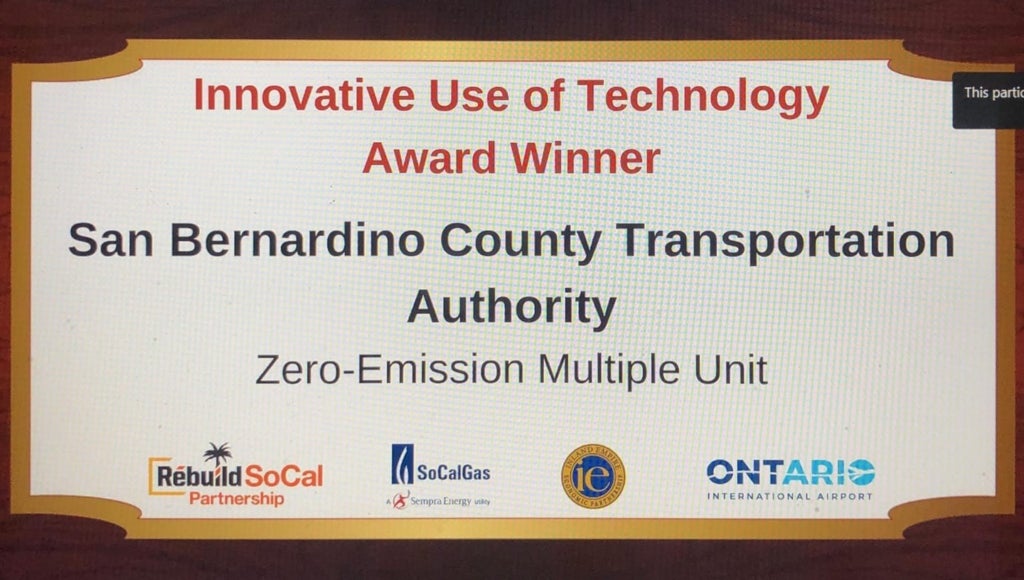 The Inland Empire Economic Partnership (IEEP) recognized SBCTA's Zero-Emission Multiple Unit (ZEMU) project with the Innovative Use of Technology Award at their 8th Annual Red Tape to Red Carpet Awards. The IEEP awards recognize outstanding public agencies and officials that are helping residents and businesses throughout the Inland Empire grow and succeed.
In 2018, SBCTA received a $30 million Transit and Intercity Rail Capital Program (TIRCP) grant from the California State Transportation Agency (CalSTA). The grant was to fund research on the potential conversion of Diesel Multiple Unit (DMU) rail vehicles, which will be operated on SBCTA's Redland's Rail Project (RPRP), to a Zero Emission Multiple Unit (ZEMU).
The ZEMU technology pioneered by SBCTA will convert the DMU's to all-electric, self-powered, clean rail vehicles that can operate on existing rail lines.  SBCTA approved the contract with Stadler U.S. in November 2019 to begin the manufacturing of the first two-car vehicle.  Once in operation, the vehicle will be the first of its kind in North America.
One of the primary goals in researching the technology was to ensure it was expandable and could be used as an example for other rail transit systems. The ability of the ZEMU's to operate on existing heavy-gage rail lines is a potential game changer for commuter rail systems such as Metrolink. Converting to an all-electric passenger system without having to replace or construct new infrastructure, beyond upgraded fueling stations, to accommodate electric trains could potentially save hundreds of millions of dollars and expedite the conversion to cleaner trains.
The innovative technology being developed in San Bernardino County by SBCTA truly has the potential to bring revolutionary change to passenger rail throughout the country. As we look to address the impacts of climate change and find new and innovative ways to move commuters from home to work, SBCTA's ZEMU project will be at the forefront of those conversations nationally.