Staying in Touch (socially-distanced of course), Even During Pandemic
November 9, 2020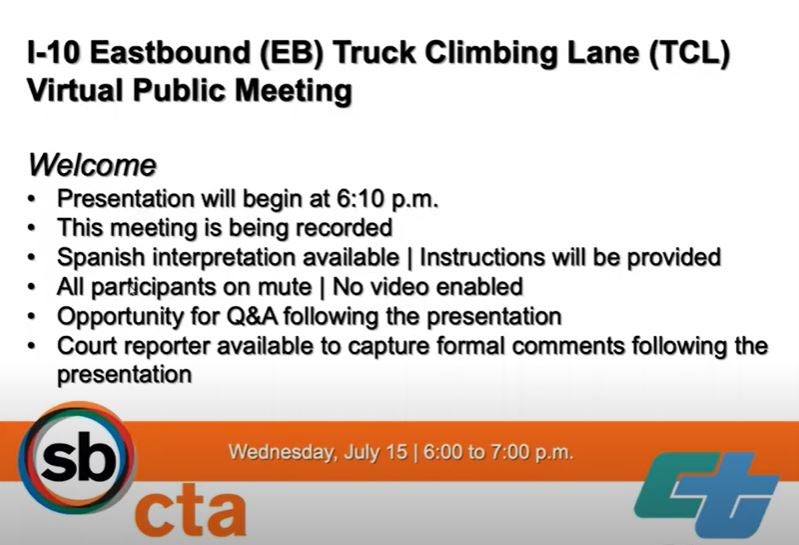 The SBCTA Public Outreach Team is tasked with keeping the public informed about the agency. The information we share is designed for people to better understand the work we do, help commuters navigate through or around our various construction projects, and update the population of the progress of their investment as taxpayers.
The Covid-19 pandemic has levied some restrictions on the outreach team to implement some of the traditional practices of public engagement. Community briefings, town-hall meetings, and special event ceremonies are among just a few of the examples of the outreach strategies that have been put on hold to reduce spreading of the virus. However, that doesn't change the public's need to know.
As a result, the outreach team has implemented some new strategies to fill the voids by those currently suspended. For example, an environmental hearing was offered for the Interstate 10 Truck Climbing Lane Project using exclusively online technology. This virtual meeting allowed participants to log in from the safety of their homes while still participating in this important opportunity to review and comment on the project's environmental analysis.
Another example is the implementation of video groundbreakings and ribbon cuttings. The use of video allows SBCTA to dig in a little deeper to the project details and have a medium that can be viewed at the public's convenience on the SBCTA website. A typical groundbreaking event will have anywhere from 100 to 200 attendees. The I-10 Corridor Project Groundbreaking Video has been seen by more than 6000 individual social media accounts and has benefited from more than 350 active engagements (likes, shares, etc.).
These outreach efforts are important to SBCTA's ability to meet the public's goals for the agency. Even though they were born out of necessity from the pandemic, it is anticipated that these tools, and others (like the real-time project Google maps and the SBCTA Today video series) will become part of the comprehensive approach to keep the public informed.
To stay up to date on the latest SBCTA news, please sign up to receive our emails here.