Board Approves Largest Budget in Agency History
June 12, 2023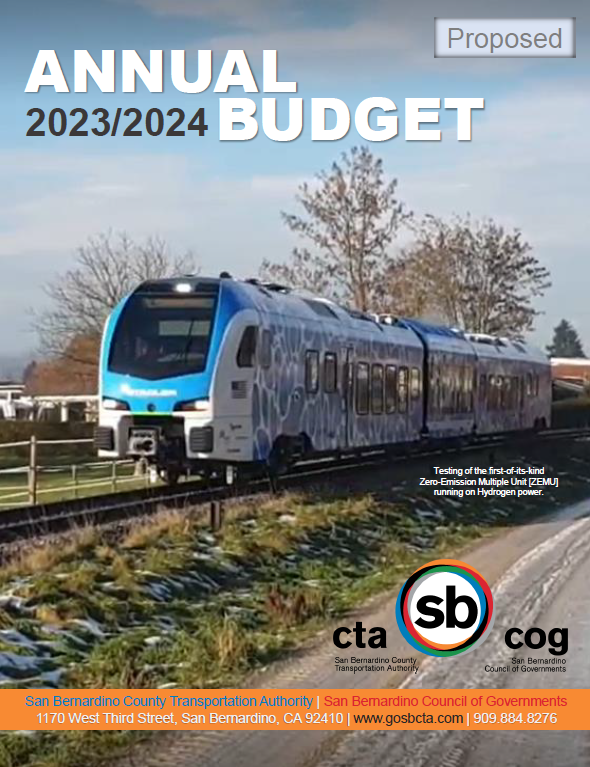 SBCTA Each policy committee reviewed the tasks that relate to the functional areas of committee oversight and each task has been reviewed by at least one of the policy committees.
SBCTA's budget process includes a review of the Board's direction as it relates to short-term goals and how it integrates with the agency's long-term goals and objectives. As part of this review, staff analyzes the resources available to help meet the short-term goals as set forth in the fiscal year budget. The Budget Action Plan for Fiscal Year 2023/2024 has been incorporated in the budget document, on which the Executive Director will provide quarterly updates.
For purposes of preparing an annual budget, the San Bernardino Associated Governments (SBCOG) is a blended component unit of SBCTA, and its estimated revenues and appropriations are reflected in the proposed budget. SBCTA develops a program-based budget, which is adopted with funding source detail. The modified accrual basis (where revenues are recognized when received and available to meet current year obligations) is the basis for the Fiscal Year 2023/2024 Budget. Fiscal Year 2023/2024 estimated revenues are $912,760,566 and carryover balances are $648,898,009, which together are used to fund the largest ever appropriations proposed at $1,159,916,302, and transfers are $175,083,078.