SBCTA Selects Board Leaders for 2023-2024 Year
June 12, 2023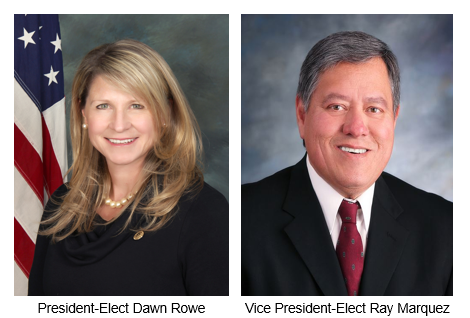 The end of the 2022-2023 fiscal year brings the election of new SBCTA Board leadership. On June 7, 2023, the SBCTA Board of Directors elected San Bernardino County Board of Supervisors Chair Dawn Rowe to serve as Board President for the 2023-2024 year and Chino Hills Councilman Ray Marquez to serve as Vice President.
President-elect Rowe is the current Vice President of the SBCTA Board and Chair of the Metro Valley Study Session and General Policy Committee. She was appointed to the San Bernardino County Board of Supervisors in 2018, was re-elected to a full term in 2020 and unanimously selected to serve as Board Chair by her colleagues in January 2023. Prior to joining the Board of Supervisors, President-elect Rowe served on the Yucca Valley Town Council from 2010-2014 and the Yucca Valley Planning Commission from 2008-2010.
Councilman Marquez currently serves as Chair of the SBCTA Transit Committee. He was elected to the Chino Hills City Council in March of 2013 in a special election and re-elected in 2014, 2018, and 2022. He served as Mayor in 2017 and 2022. Prior to joining the city council, Councilman Marquez served on the Chino Hills Planning Commission from 1992 to 1994, the Parks and Recreation Committee from 1994 to 2006, and elected to the Chino Valley Independent Fire District Board from 2006 to 2013.